Everything you wanted to know about the FMLA poster
Posted March 1, 2018
Employment law posters seem like such a simple item: Figure out which laws apply to your company, determine if there's a poster requirement, and put the applicable posters up on the wall. Sometimes, however, what seems to be the simplest task can bring about many questions.
The questions might be why some companies basically outsource their employment law poster chore. In addition to the general questions, the laws change and the posters change. Despite this, employers are expected to keep their posters up to date.
With that in mind, the following questions and answers might help clear up some of the ambiguity related specifically to the FMLA poster.
Q: Is the FMLA poster required to be seen by job applicants as well as employees?
A: Yes, you must ensure that job applicants can see the FMLA poster.
Q: Instead of putting the FMLA poster up so applicants can see it, may I simply give it to new hires?
A: No. Applicants need to see it before they are hired.
Q: Can employers provide the poster electronically?
A: Yes, as long as the poster meets all the other criteria, such as including the correct information, and making sure the text is large enough to be easily read and is legible.
Q: Can an employer simply include the poster information in a company handbook and state that if an employee wants a copy of the FMLA poster, to ask their supervisor?
A: Much will depend upon whether the employer has any FMLA-eligible employees. If not, the employer still needs to put the FMLA poster up so all employees and applicants can see it. If the employer does have FMLA-eligible employees, it will also either have to put it in an employee handbook (or similar guidance), or give it to each employee upon hire.
Q: If the poster is available to all associates electronically, does it have to be physically posted?
A: Technically, yes. The poster needs to be always visible.
Q: When people apply online at our website, they need to see the FMLA poster?
A: All applicants need to be able to see the FMLA poster, even those who apply online. Electronic posting is acceptable as long as it otherwise meets the posting requirements (e.g., prominence, size, readability).
Q: Are there fines for not posting online for applicants also?
A: If a representative of the DOL determines that an employer has committed a willful violation of the posting requirement, including the posting for applicants, a penalty may be issued. In January, maximum penalty increased to $169 for each willful violation.
Q: Do posters need to be posted in just home office or at all branch locations?
A: Posters need to be visible to employees and need to be displayed where employees report to work each day. If employees are reporting to work at the branch locations, the posters must be displayed there as well as in the home office.
---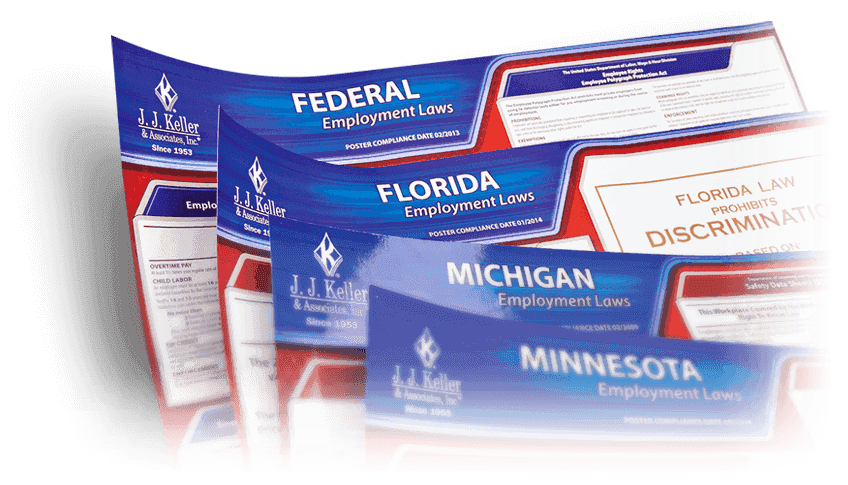 J. J. Keller's comprehensive line of labor law posters help you meet local, state and federal posting requirements.
---
J. J. Keller's FREE HRClicks™ email newsletter brings quick-read human resources-related news right to your email inbox.