EEOC acting chair: Sexual harassment remains significant issue
Posted March 19, 2018
Victoria Lipnic, acting chair of the Equal Employment Opportunity Commission (EEOC) doesn't revel in it, but she could say "we told you so" when it comes to the issue of sexual harassment.
"This is a problem and remains a problem in many workplaces around the country," she told an audience of human resources professionals at the Society of Human Resource Management (SHRM) Law and Legislative Conference in Washington, D.C., on March 13.
Lipnic was a co-chair of a 2016 task force report that analyzed workplace harassment risk factors and pointed to a need to reboot training. She said she now dates her life as pre-October 5 and post-October 5, when sexual harassment allegations at top levels in the entertainment world focused national attention on the issue.
No industry or employer is immune to the issue, pointed out harassment task force member Jonathan A. Segal, who also spoke at the March 13 conference. Companies must have zero tolerance for bad behavior and craft a response that's in proportion to that behavior.
Allowing problematic behavior to persist can impact a company in ways that extend beyond litigation. Lower productivity, higher turnover, and damage to a company's reputation could all result.
"When we protect our employees from harm we protect our organization from harm," Segal said.
A company can benefit from:
A robust policy that focuses on prohibited behavior rather than a definition of sexual harassment
Trusted complaint procedures
Multiple points of access for making complaints
Awareness that bystanders can make complaints
Effective training tied to a culture of respect
A culture that does not accept demeaning or denigrating conduct
An organization's leadership sets the tone for its culture, the speakers noted, and civility starts at the top.
"I ask you to demand that they take you seriously on this topic and what needs to be done to prevent it," Lipnic said.
This article was written by Terri Dougherty of J. J. Keller & Associates, Inc.
---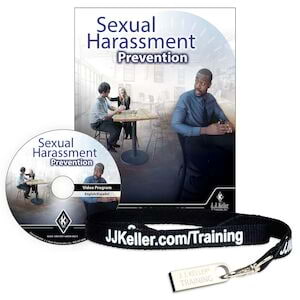 J. J. Keller's Sexual Harassment Prevention Training helps all employees learn how to address sexual harassment in the workplace.
---
J. J. Keller's FREE HRClicks™ email newsletter brings quick-read human resources-related news right to your email inbox.