Company sentenced to pay 2 million dollars, serve probation for water violations leading to massive fish kill
Posted March 2, 2018
On February 27, 2018, a national poultry processor was sentenced in federal court to pay a $2 million criminal fine, serve two years of probation, and spend $500,000 to fix the problems caused when it violated the Clean Water Act.
According to the U.S. Justice Department, which prosecuted the case, the conviction stemmed from a spill at the poultry producer's Missouri feed fill, where it mixed ingredients to produce chicken feed. One ingredient was a very strong acid (with a pH of less than one) used as a liquid food supplement. In May 2014, the tank used to store the acid sprang a leak. The company transported the spilled substance to another company-owned plant where the acid was then discharged into the sewers. From there, the acid reached the municipal wastewater treatment plant, killing beneficial bacteria used to reduce ammonia in the plant's water discharges. As a result, more ammonia was released from the plant into a nearby creek, consequently killing more than 100,000 fish.
The plea agreement also requires the company to retain an independent, third-party auditor to examine environmental compliance at all the company's facilities in the United States; conduct specialized environmental training at all its facilities; and improve its policies and procedures to prevent something similar from occurring in the future.
---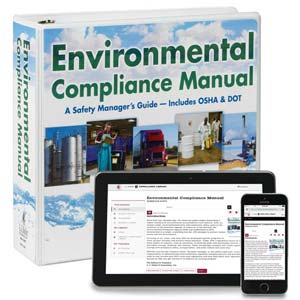 J. J. Keller's Environmental Compliance Manual covers environmental issues plus EPA, OSHA & DOT compliance info.
---
J. J. Keller's FREE Workplace SafetyClicks™ email newsletter brings quick-read workplace safety and compliance news right to your email box.