Budget Bill's FLSA Amendment Bans Employer Tip-Retention
Posted March 30, 2018
The Consolidated Appropriations Act, passed and signed on March 23, 2018, amended the Fair Labor Standards Act (FLSA) to ban employers from collecting any portion of an employee's tips. However, the Act also removed an existing Department of Labor (DOL) ban on employer-required tip-sharing under specific circumstances.
The changes effectively strike a compromise between employer and server advocacy groups, while also addressing a collection of conflicting lower-court rulings on the issue.
Employer tip-retention banned
In late 2017, the DOL proposed rescinding a 2011 Obama administration rule that classified tips as the sole property of the employee. The new rule included no language addressing whether employers could retain the tips, which raised concerns among employee advocacy groups.
The spending bill's new FLSA amendment specifically addresses that concern by prohibiting employers (including "managers or supervisors") from keeping any portion of tips received by employees for any purposes.
Employers once again allowed to require tip-sharing
Prior to the new amendment, the same 2011 rule held that employers were not allowed to require tipped employees (e.g., servers, bartenders) to share their tips with "non-tipped" employees (e.g., cooks, bussers).
Under the new law, such tip-sharing arrangements are now allowed when tipped employees are paid at least the full minimum wage before tips are counted. However, employers paying less than the minimum wage by taking a tip credit may not impose a tip-sharing rule.
This article was written by Ann Potratz of J. J. Keller & Associates, Inc.
---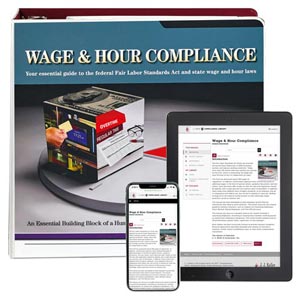 J. J. Keller's Wage and Hour Compliance with FLSA Manual provides critical info to help you comply with the Fair Labor Standards Act (FLSA) and state wage and hour laws.
---
J. J. Keller's FREE HRClicks™ email newsletter brings quick-read human resources-related news right to your email inbox.