2018 EEO-1: Brand new deadline, same old report
Posted March 12, 2018
With the new March 31 deadline looming, many employers may find themselves with questions as they scramble to complete their EEO-1 reports. The federally required report has been the subject of scrutiny in recent years as the Equal Employment Opportunity Commission (EEOC) proposed sweeping changes, which has caused confusion and concern among employers.
Ultimately, employers can breathe a sigh of relief knowing they'll be filing the same report they always have. The agency overseeing the process chose to suspend the changes for the 2017 report and move forward with the existing format.
Why didn't the report change?
In August 2017, the Office of Management and Budget (OMB) announced that it had suspended the addition of pay and hours worked data to the EEO-1 report pending an investigation of their effectiveness. The OMB's opinion cited concerns about the burden reporting this data would put on employers. It also cited concerns about a "lack of practical utility," stating that the additional requirements were "unnecessarily burdensome" and did not "adequately address privacy and confidentiality issues."
Other opponents of the change argued that the data collected would not increase the EEOC's ability to identify pay discrimination. These individuals indicated that the data would not reflect the overwhelming number of extenuating factors that go into determining an individual's pay (including education, experience, geographic location, and more).
What's new to the report?
Very little has actually changed on the EEO-1 report, despite the controversy since it last came due in 2016. The EEOC delayed filing requirements in 2017 to give employers more time to prepare the additional information they planned to require, but those additional data points have been suspended indefinitely, meaning that the report itself has not changed.
Aside from the revised deadline, the timeframe from which employers may pull reporting data is the only other major change. In previous years, the numbers had to be pulled from a pay period between July and September. This year's report may be completed using figures from any pay period from the last quarter of calendar year 2017 (October, November, or December).
What does the future hold?
Pending a more thorough review by the OMB and other agencies, the report is likely to remain the same for the time being. While the EEOC and other advocates of the proposed changes hope to see pay equity addressed in future reporting, they may have some trouble getting the new administration to agree on the best way to achieve that goal.
In the meantime, employers who haven't already filed their EEO-1 report for 2017 should begin the process as soon as possible.
This article was written by Ann Potratz of J. J. Keller & Associates, Inc.
---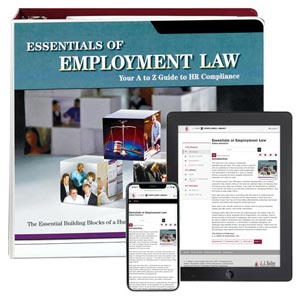 J. J. Keller's Essentials of Employment Law Manual covers more than 100 vital HR topics, including FMLA, ADA, HIPAA, FLSA, COBRA and more.
---
J. J. Keller's FREE HRClicks™ email newsletter brings quick-read human resources-related news right to your email inbox.