U.S. businesses facing high costs, risks of opioid overdose epidemic
Posted March 21, 2017
According to the Centers for Disease Control and Prevention (CDC), a growing opioid overdose epidemic is taking a toll on American employers. In 2015, more than 33,000 Americans lost their lives in opioid-related overdoses. In 2013, prescription opioid dependence, abuse, and overdoses cost the U.S. $78.5 billion, and the CDC estimates that the loss of productivity for U.S. workers totaled $20.4 billion.
As part of an effort to address the problem, the CDC Foundation, a support arm of the CDC, recently released its latest issue of the Business Pulse, a publication that provides useful resources to businesses and their workforces. The new issue focuses on four critical challenges facing employers in dealing with the opioid overdose epidemic:
Opioid misuse harms America's workforce;
Prescription opioid abuse has a high cost;
Prescription opioids have side effects and serious risks; and
Insurance does not always cover non-opioid therapies.
The CDC says it's important that employers are aware of the growing opioid abuse problem and take action to protect their workers. The misuse of prescription opioids is linked to worker injury, illness, and overdose. The CDC recommends employers protect employees from opioid overdose by:
Addressing substance abuse in the workplace;
Training managers to recognize and respond to pain and opioid misuse issues;
Educating employees about pain and opioid misuse issues;
Reviewing healthcare benefits packages (e.g., ensure that non-opioid pain management options are available); and
Learning more about prescription opioid drug overdose policies and interventions.
---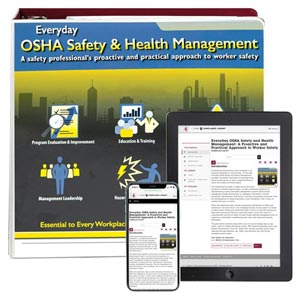 J. J. Keller's Everyday OSHA Safety & Health Management Manual provides "how-to" guidance and tools on a wide range of workplace health and safety issues.
---
J. J. Keller's FREE Workplace SafetyClicks™ email newsletter brings quick-read workplace safety and compliance news right to your email box.