TSA extends comment period for 9/11 rulemaking
Posted March 16, 2017
As the result of several requests from stakeholders, the Transportation Security Administration (TSA) reopened the comment period for an advance notice of proposed rulemaking (ANPRM) dealing with security plans and vulnerability assessments associated with surface transportation. The rulemaking is mandated by the "Implementing Recommendations of the 9/11 Commission Act of 2007" (9/11 Act).
The original request for comments — appearing in the Federal Register on December 16, 2016 — closed on February 14, 2017. Comments will now be accepted through May 15, 2017.
Areas TSA seeks input
TSA believes — through its interactions with stakeholders — that many over-the-road buses, higher-risk railroads (freight and passenger), and public transportation agencies have implemented security programs with security measures similar to those identified by the 9/11 Act's regulatory requirements.
TSA is requesting information on the following three issues to establish the current baseline, estimate cost of implementing the statutory mandate, and develop appropriate performance standards:
Existing practices, standards, tools, or other resources used or available for conducting vulnerability assessments and developing security plans;
Information on existing security measures, including whether implemented voluntarily or in response to other regulatory requirements, and the potential impact of additional requirements on operations; and
Information on the scope/cost of current security systems and other measures used to provide security and mitigate vulnerabilities.
How to offer comments
Referencing Docket No. TSA-2016-0002/RIN 1652-AA56, you may submit comments to TSA via the Federal Docket Management System (FDMS), a government-wide, electronic docket management system, using any one of the following methods:
Electronically: Use the federal eRulemaking portal.
Mail, In Person, or Fax: Address, hand-deliver, or fax your written comments to the Docket Management Facility, U.S. Department of Transportation, 1200 New Jersey Avenue SE., West Building Ground Floor, Room W12-140, Washington, DC 20590-0001; fax (202) 493-2251.
The Department of Transportation (DOT), which maintains and processes TSA's official regulatory dockets, will scan the submission and post it to FDMS.
---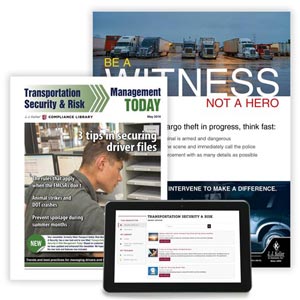 J. J. Keller's Transport Safety Risk Management & Security Newsletter keeps you up-to-date on the latest security and motor carrier safety risk management.
---
J. J. Keller's FREE Transportation SafetyClicks™ email newsletter brings quick-read safety and compliance news right to your email box.