PHMSA issues HM-215N final rule
Posted March 30, 2017
The long-awaited Pipeline and Hazardous Materials Safety Administration (PHMSA) final rule for HM-215N - Harmonization with International Standards was published on March 30, 2017.
The amendments to the Hazardous Materials Regulations (HMR) in this final rule are effective on March 30, 2017, except for some relating to Polymerizing Substances that are effective on January 2, 2019. Voluntary compliance is authorized beginning January 1, 2017. Unless otherwise specified in the final rule, mandatory compliance is required beginning January 1, 2018.
The changes in this rule affect the HMR in Parts 107, 171, 172, 173, 175, 176, 178, and 180. Some of the major changes include:
Updating references to international regulations, including the ICAO Technical Instructions, the IMDG Code, the UN Model Regulations, the UN Manual of Tests and Criteria, the Globally Harmonized System of Classification and Labelling of Chemicals, the Canadian Transportation of Dangerous Goods Regulations, and various ISO standards.
Numerous changes to the §172.101 Hazardous Materials Table. Includes adding, revising, or removing shipping names, hazard classes, packing groups, special provisions, packaging authorizations, bulk packaging requirements, passenger and cargo aircraft maximum quantity limits, and vessel stowage requirements.
Adding 5 new entries to the list of Marine Pollutants.
New defining criteria, authorized packagings, and safety requirements for Polymerizing Substances.
New requirements for Engine/Machinery Internal Combustion transported by vessel.
Revised packaging requirements for Water-Reactive Materials transported by vessel.
Recognition of Transport Canada cylinders, equivalency certificates and the inspection and repair of cargo tanks.
A new label and revised markings for Lithium Batteries.
---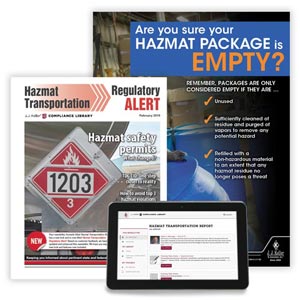 J. J. Keller's HAZMAT Transportation Report helps you track ever-changing Hazmat Regulations affecting Hazmat shippers, handlers, and transporters.
---
J. J. Keller's FREE Transportation SafetyClicks™ email newsletter brings quick-read safety and compliance news right to your email box.