Nobody's perfect: Manager FMLA mistakes and how to deal with them
Posted March 24, 2017
When employees need time off, including leave under the Family and Medical Leave Act (FMLA), they usually contact their immediate supervisor or manager. While this is fine, the manager is not always well versed in FMLA requirements. The manager has likely gone through some FMLA training, but may not remember all the information. The FMLA does not mandate manager training, but it seems logical that if they are the direct link to employees, they should have some familiarity with the provisions — at least what a notice of the need for leave can look like and who to contact with questions.
Identifying an employee's notice of the need for leave is generally one aspect of the FMLA where managers might make missteps. Managers might expect employees to use the term "FMLA" or otherwise let them know that their leave is obviously for an FMLA-qualifying reason. This is not, however, the case. Managers would benefit from a bit of paranoia when it comes to employees asking for leave for potentially qualifying reasons. Pregnancy, incapacitation of more than three days, chronic conditions; all these (and others) would be FMLA leave. Failure to provide the law's protections can risk a claim, so managers would be doing the company a favor by taking the FMLA seriously.
Here are a couple other manager mistakes and how to address them.
Not notifying the FMLA administrator of an employee's absence
Once a manager has that inkling that an employee's absence might be for an FMLA-qualifying reason, they should let the FMLA administrator know about it. The five-day clock for providing an eligibility/rights & responsibilities notice begins ticking when an employee provides notice of the need for leave. Keeping this information to themselves can risk an investigation by the U.S. Department of Labor.
Asking for too much information
Often, managers want to have as much information about an employee as is humanly possible, but there are boundaries, and the FMLA has some. Instead of requesting an employee's entire medical history, managers might fare better if they ask a few simple questions related to an absence, and leave the medical information to human resources (HR).
Thinking that if the employee uses paid time off, the FMLA doesn't matter
Just because an employee might be using vacation or other paid time off does not negate his or her rights to FMLA protections. Managers should be made clearly aware of this.
While some managers might not take FMLA leave too seriously, reminding them that they could be held individually liable for violations of the law could help them see the light.
Manager's FMLA checklist
To help you keep managers safe from FMLA missteps, here's a quick, rudimentary checklist for managers to refer to when an employee calls in or otherwise requests time off for reasons that are not obviously for vacation or fun. If, for example, an employee requests two weeks off to visit Bermuda, a manager need not filter it through an FMLA lens. If an employee simply calls in "sick" with no other information, the manager need not be overly concerned, unless that sickness lasts for more than three days or is related to a chronic condition. Feel free to add to this checklist to reflect the particular needs of your organization.
When an employee calls in or indicates the need for an absence, ask the following types of questions:

What is the anticipated timing and duration of the absence? (If it's more than three days, start thinking FMLA)
Are you unable to perform the functions of your job?
If the absence is due to a family member's condition, is the family member unable to perform daily activities?
Is the absence in relation to a pregnancy? (Any period of incapacity for pregnancy is FMLA leave)
Have you or a family member been under the continuing care of a health care provider?
Is the absence due to a family member's military service?

If the employee answers YES to any of these, alert the FMLA administrator even if the employee is to use accrued paid leave.
If the employee is involved in a work-related injury or illness, alert the FMLA administrator, as such situations could also involve the FMLA.
Do not ask the employee for medical information.
This article was written by Darlene Clabault of J. J. Keller & Associates, Inc.
---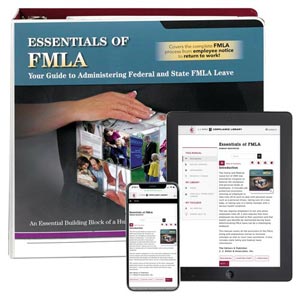 J. J. Keller's Essentials of FMLA manual helps HR pros understand and comply with the FMLA rules, control costs related to leave taken, and minimize the law's potential disruption to their organizations' operations.
---
J. J. Keller's FREE HRClicks™ email newsletter brings quick-read human resources-related news right to your email inbox.