Employers support mandatory E-Verify system, survey shows
Posted March 29, 2017
A new survey indicates that there is strong support from employers for a mandatory electronic employment verification system (also known as E-Verify).
The current employment verification process, the Form I-9, uses paper documentation to verify employment eligibility of people seeking work in the United States and is mandatory for all employers. The E-Verify system relies on Social Security Administration and Department of Homeland Security databases to confirm that individuals are authorized to work in the United States. The use of E-Verify is mandatory for federal contractors and subcontractors, and 21 states and localities require the use of E-Verify for some or all employers.
Eighty-three percent of employers (either strongly or somewhat) would support a mandatory verification system according to the Employment Verification Survey by the Society for Human Resource Management (SHRM) conducted in collaboration with the Council for Global Immigration (CFGI).
Employer support was even stronger if an electronic verification system:
Avoids allegations of employment-based discrimination (95 percent).
Includes a strong safe harbor to protect employers (95 percent).
Authenticates identity (94 percent).
Eliminates the Form I-9 (89 percent).
However, employers noted challenges with the current E-Verify. The most frequently reported challenges were that it does not replace Form I-9 (25 percent) and it has an unclear process for resolving issues when a worker's ability to be employed in the United States is not confirmed (22 percent).
Survey results show that employers also have challenges with the Form I-9. Maintaining records when keeping track of documents with an expiration date (37 percent) was the most frequently reported challenge with the paper verification process.
Per SHRM, the support for E-Verify comes at a time when HR professionals are experiencing challenges with both the electronic verification system and the Form I-9 employment verification process. SHRM also notes that the survey results are timely, as the Trump administration's Fiscal Year 2018 budget proposal includes funding to support mandatory use of E-Verify.
The survey polled 453 HR professionals from a randomly selected sample of SHRM's membership. The survey was conducted between October 11 and November 18, 2016. It has a margin of error of plus or minus five percentage points. These findings are consistent with those of SHRM E-Verify surveys in 2006 and 2014.
---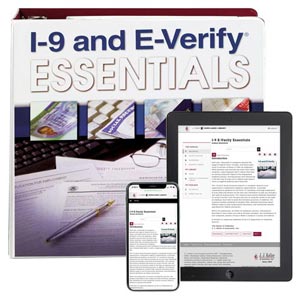 J. J. Keller's I-9 and E-Verify Essentials Manual helps you avoid I-9 errors and costly penalties related to the employment authorization process.
---
J. J. Keller's FREE HRClicks™ email newsletter brings quick-read human resources-related news right to your email inbox.