EPA allows more time to comment on adding natural gas processors to TRI
Posted March 8, 2017
EPA extended the comment period on its proposed rule to add natural gas processing (NGP) facilities to the Toxics Release Inventory (TRI). Stakeholders now have until May 6, 2017, to provide information to EPA – an additional 60 days.
Stakeholders had asked EPA for more time to comment on the rulemaking, which would require NGP facilities to report chemical releases and other waste management of listed chemicals for the first time. NGP facilities manufacture, process, or otherwise use more than 21 different TRI-listed chemicals, including n-hexane, hydrogen sulfide, toluene, benzene, xylene, and methanol. EPA says that requiring NGP facilities to report to TRI would provide the public with more meaningful data on the release and waste management of these chemicals.
EPA's TRI program requires certain industrial and federal facilities to report annually to TRI for each listed chemical manufactured, processed, or otherwise used in quantities above the reporting threshold. Facilities also report on their waste management activities, including land disposal, recycling, treating, or burning for energy recovery.
The reporting threshold is usually 25,000 pounds for manufactured or processed chemicals and 10,000 pounds for chemicals that are otherwise used, although many chemicals have significantly lower thresholds. Covered facilities are listed by NAICS code and employ at least 10 full-time equivalent employees.
The public can find national TRI data and tools, as well as summary-level information on neighborhood facilities on several EPA TRI websites.
---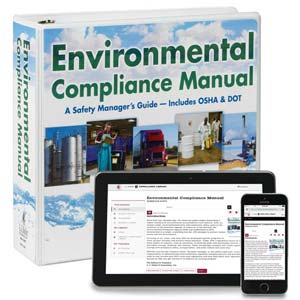 J. J. Keller's Environmental Compliance Manual covers environmental issues plus EPA, OSHA & DOT compliance info.
---
J. J. Keller's FREE Workplace SafetyClicks™ email newsletter brings quick-read workplace safety and compliance news right to your email box.