DOL proposes 60-day delay of Fiduciary rule
Posted March 8, 2017
The Department of Labor (DOL) issued a proposed rule to extend for 60 days the applicability date defining who is a "fiduciary" and the applicability date of related prohibited transaction exemptions (collectively PTEs). The final rule treats persons who provide investment advice or recommendations for a fee or other compensation with respect to assets of a plan or IRA as fiduciaries in a wider array of advice relationships than was true of the prior regulatory definition (the 1975 Regulation).
The final rule, titled Definition of the Term "Fiduciary;" Conflict of Interest Rule — Retirement Investment Advice, was published in the Federal Register on April 8, 2016, became effective on June 7, 2016, and has an applicability date of April 10, 2017.
The PTEs also have applicability dates of April 10, 2017. The President by Memorandum to the Secretary of Labor, dated February 3, 2017, directed the DOL to examine whether the final fiduciary rule may adversely affect the ability of Americans to gain access to retirement information and financial advice, and to prepare an updated economic and legal analysis concerning the likely impact of the final rule as part of that examination.
The agency invites comments on the proposed 60-day delay of the applicability date, on the questions raised in the Presidential Memorandum, and generally on questions of law and policy concerning the final rule and PTEs. The proposed 60-day delay would be effective on the date of publication of a final rule in the Federal Register.
Comments on the proposal to extend the applicability dates for 60 days should be submitted to the Department on or before March 17, 2017. Comments regarding the examination described in the President's Memorandum, generally and with respect to the specific areas described in the proposal, should be submitted to the Department on or before April 17, 2017. Comments may be submitted to the Federal eRulemaking Portal identified by RIN 1210–AB79.
---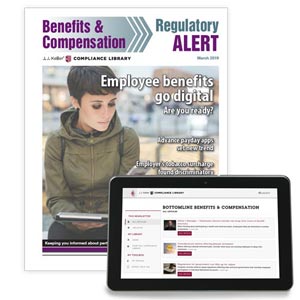 J. J. Keller's BottomLine Benefits & Compensation is an 8-page, monthly newsletter that addresses key issues relating to benefits and compensation programs.
---
J. J. Keller's FREE HRClicks™ email newsletter brings quick-read human resources-related news right to your email inbox.