OSHA's proposed changes to HazCom address combustible dust, small container labeling
Posted February 12, 2021
OSHA has issued a proposed rule to revise the Hazard Communication Standard (HCS). The revisions are intended to align the HCS with the United Nations' Globally Harmonized System of Classification and Labelling of Chemicals (GHS) Revision 7, to address issues that arose during implementation of the 2012 HCS update, and to provide better alignment with other U.S. agencies and international trading partners.
The proposed changes include:
Revised criteria for classification of certain health and physical hazards.
Revised provisions for labels, including proposed provisions addressing the labeling of small containers and the relabeling of chemicals that have been released for shipment.
Technical amendments related to the contents of safety data sheets (SDSs).
Revised definitions of "exposure or exposed," "hazardous chemical," and "physical hazard."
Adding definitions for "combustible dust," "gas," "liquid," "solid," immediate outer package." "physician or other licensed health care professional (PLHCP)," and "released for shipment."
New provisions relating to concentrations or concentration ranges being claimed as trade secrets.
The proposed rule is scheduled to appear in the Federal Register February 16. Comments will be accepted until April 19 at regulations.gov; search for Docket No. OSHA-2019-0001.
This article was written by Rachel Krubsack of J. J. Keller & Associates, Inc.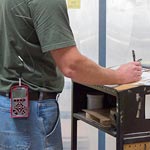 Looking for more on workplace safety?
Get the information and products you need to stay on top of industry changes and comply with regs.