Investigation to look at COVID-19 infections, deaths in meatpacking plants
Posted February 4, 2021
The U.S. House of Representatives Select Subcommittee on the Coronavirus Crisis has launched an investigation into COVID-19 outbreaks and deaths in meatpacking plants across the nation. The investigation follows reports that nearly 54,000 workers at 569 meatpacking plants in the United States have tested positive for the coronavirus, and at least 270 have died.
On February 1, Rep. James E. Clyburn, Chairman of the Select Subcommittee on the Coronavirus Crisis, sent letters to OSHA and three meatpacking companies, all of which have had multiple outbreaks.
The letter to OSHA states that the agency failed to act urgently in addressing safety hazards at facilities it inspected and failed to bring meaningful enforcement actions against meatpacking companies that violated existing worker safety standards during the pandemic. The Select Subcommittee requests documents by February 22 from OSHA related to COVID-19 infections and deaths at meatpacking plants and the enforcement of worker protections by the former Administration.
Documents also are requested from the affected meatpacking companies by February 15, including those related to complaints or concerns submitted by employees regarding COVID-19; federal or state inspections conducted at the plants relating to COVID-19; steps the companies took to mitigate the spread of COVID-19; and more.
This article was written by Rachel Krubsack of J. J. Keller & Associates, Inc.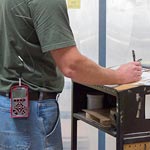 Looking for more on workplace safety?
Get the information and products you need to stay on top of industry changes and comply with regs.