Cross-border truckers are required to use ArriveCAN upon entering Canada
Posted February 24, 2021
As the COVID-19 pandemic continues, new measures are being taken to prevent the virus from spreading across the U.S.-Canadian border. One recent action by the Canadian government is to mandate all air and land travelers entering Canada — including commercial drivers — to provide their information before or upon entering Canada by using the ArriveCAN mobile application (app) or website.
ArriveCAN, available as an app or on the ArriveCAN website, is used by travelers to provide mandatory travel information prior to or upon entry or re-entry into Canada. Information entered by travelers includes travel and contact information, quarantine plans, and a COVID-19 symptom self-assessment. However, commercial drivers are not subject to the mandatory quarantine requirement or that portion of the ArriveCAN questionnaire.
Commercial drivers are advised to enter their travel information prior to entering Canada by using the ArriveCAN app or website.
Using Canada's ArriveCAN app or website is mandatory as of February 22, 2021. The app is available for iOS and Android or online at Canada.ca/ArriveCAN.
This article was written by Heather Ness of J. J. Keller & Associates, Inc.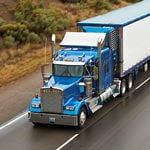 Looking for more on transportation safety?
Get the information and products you need to stay on top of industry changes and comply with regs.