Employees lose FLSA argument over pay, including overtime
Posted February 3, 2020
In a federal court case, a group of firefighters alleged that the city for which they worked miscalculated its overtime liability and, in turn, underpaid them during six work periods.
Under the federal Fair Labor Standards Act (FLSA), public agencies employing firefighters may adopt a 28-day work period for purposes of calculating overtime pay. FLSA requires overtime pay of 1.5 times the regular rate of pay for every hour above 212 hours that a firefighter works in a 28-day work period.
The city adopted a 28-day pay period for its firefighters and paid them biweekly. It paid them a base hourly rate for 224 hours per work period, regardless of whether they actually worked a full 224 hours. Furthermore, when a firefighter worked hours outside of his or her regularly scheduled shifts, the city paid "contractual overtime" of 1.5 times his or her base hourly rate for each additional hour worked. The city's "contractual overtime" payments were distinct from FLSA overtime pay, and the firefighters were entitled to FLSA overtime pay for each hour worked over the 212-hour threshold.
Each work period, the city calculated what was owed to its firefighters under FLSA. If the amount the city paid a firefighter was less than required under FLSA, it added an FLSA overtime adjustment to the firefighter's paycheck at the end of the work period. If the amount the city paid was more than required under FLSA, no adjustment was made.
The firefighters alleged that the city owed them additional FLSA overtime pay in each pay period because it (1) miscalculated the FLSA regular rate of pay, and (2) it took an improper "credit" against its FLSA liability.
In disagreeing with the firefighters, the court indicated that if an employee's actual pay exceeds what the FLSA would require, an employer has no additional FLSA liability.
Regarding the regular rate of pay, which is the hourly rate actually paid for the normal, non-overtime workweek, employers generally determine it by dividing the total remuneration for employment (except statutory exclusions) in any workweek by the total number of hours actually worked in that workweek.
The court in this case found that the city conclusively demonstrated that it paid the firefighters more than was required under FLSA, even when their proffered regular rate of pay was used.
When it came to the overtime credit, while the firefighters agreed that the city could take a half-time credit (0.5) against their FLSA overtime liability for contractual overtime paid below the FLSA threshold, they argued that the city improperly took a 1.5 credit for contractual overtime paid and deducted that credit from its FLSA liability. They had, however, no support for this argument. They refuted the city's paystub evidence, but failed to cite to the actual pay figures, and omitted from their calculations broad swaths of the compensation they actually received. Their calculations also had mathematical errors.
Wallace v. City of San Jose, Ninth Circuit Court of Appeals, No. 18-16083, January 15, 2020.
This article was written by Darlene M. Clabault, SHRM-CP, PHR, CLMS, of J. J. Keller & Associates, Inc.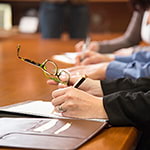 Looking for more on HR compliance?
Get the information and products you need to stay on top of industry changes and comply with regs.