Cal/OSHA issues guidance on protecting healthcare workers from coronavirus
Posted February 10, 2020
Cal/OSHA has issued guidance for employers on protecting healthcare workers from exposure to coronavirus. The guidance covers safety requirements when providing care for suspected or confirmed patients of coronavirus or when handling pathogens in laboratory settings in California.
Coronavirus is an airborne infectious disease covered by Cal/OSHA's Aerosol Transmissible Diseases (ATD) standard, which requires certain employers to protect workers from diseases and pathogens transmitted by aerosols and droplets.
The ATD standard applies in healthcare facilities, laboratories, public health services, police services, and other locations where employees are reasonably anticipated to be exposed to confirmed or suspected cases of aerosol transmissible diseases. It requires covered employers to protect employees through:
Written ATD exposure control plan and procedures;
Training;
Engineering and work practice controls;
Personal protective equipment;
Medical services, including vaccination and infection determination and treatment; and
Laboratory operation requirements.
Affected California employers should review their health and safety procedures as well as the recommendations and standards detailed in the issued guidance.
This article was written by Rachel Krubsack of J. J. Keller & Associates, Inc.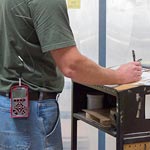 Looking for more on workplace safety?
Get the information and products you need to stay on top of industry changes and comply with regs.