CSB finalizes chemical incident reporting rule
Posted February 17, 2020
The U.S. Chemical Safety and Hazard Investigation Board (CSB) approved a final rule that will require business owners or operators to submit accidental release reports to CSB within eight hours of a chemical release.
CSB Interim Executive Dr. Kristen Kulinowski said, "The rule requires prompt reports to the CSB from owners or operators of facilities that experience an accidental release of a regulated substance or extremely hazardous substance that results in a death, serious injury, or substantial property damage. The CSB anticipates that these reports will provide the agency with key information important to the CSB in making prompt deployment decisions."
The CSB says that the accidental release reports will require only information that is already known or should be available to an owner/operator soon after an accidental release.
The required information is limited in scope to critical information needed for the agency to make informed decisions about its jurisdiction, interagency coordination, and deployment decision-making.
The rule adds a new part – 1604 – to Title 40 of the Code of Federal Regulations, and takes effect 30 days after publication in the Federal Register.
This article was written by Rachel Krubsack of J. J. Keller & Associates, Inc.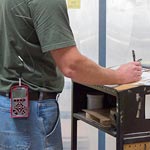 Looking for more on workplace safety?
Get the information and products you need to stay on top of industry changes and comply with regs.