Judge's death undermines equal pay court ruling
Posted February 28, 2019
A judge on the United States Court of Appeals for the Ninth Circuit, the Honorable Stephen Reinhardt, died on March 29, 2018, but the Ninth Circuit counted his vote in cases decided after that date, including a case involving equal pay.
Judge Reinhardt was listed as the author of a decision issued by all the judges (en banc) on April 9, 2018, 11 days after he passed away. By counting Judge Reinhardt's vote, the court deemed Judge Reinhardt's opinion to be a majority opinion, which means that it constitutes a precedent that all future Ninth Circuit panels must follow. Without Judge Reinhardt's vote, the opinion attributed to him would have been approved by only 5 of the 10 members of the en banc panel who were still living when the decision was filed. The case went to the Supreme Court, which indicated that federal judges are appointed for life, not for eternity.
In the case in question, when an employee was hired, her prior salary was used to determine her new salary. In her prior position, the employee earned $50,630 for 206 working days. She also received an educational stipend of $1,200 per year. The employer's hiring procedure indicated that a new hire's salary was to be determined by taking the hired individual's prior salary, adding 5%, and placing the new employee on the corresponding step of a salary schedule. The procedure did not, however, rely on experience to set an employee's initial salary. The new employee was given a salary of $62,133 for 196 days of work plus a master's degree stipend of $600.
A few years later, the employee learned that her male colleagues had been subsequently hired into similar roles at higher salaries. Later that year, she filed a complaint about the pay disparity.
The employer admitted that the employee was paid less than her male counterparts for the same work, and the discrepancy was based on her prior salary. The employer contended that her prior salary was a permissible affirmative defense to her lower salary under the Equal Pay Act's catchall "any other factor other than sex" clause.
The trial court indicated that a pay structure based exclusively on prior wages is so inherently fraught with the risk — indeed, here, the virtual certainty — that it will perpetuate a discriminatory wage disparity between men and women that it cannot stand. The case was appealed, and the 9th Circuit agreed with the trial court, stating that prior salary does not fit within the catchall exception because it is not a legitimate measure of work experience, ability, performance, or any other job-related quality. Wage differentials are to be limited to legitimate, job-related factors such as a prospective employee's experience, educational background, ability, or prior job performance.
The Supreme Court didn't dig into the pay details of the case, because it was premised on a deceased judge's opinion. It was sent back to the 9th Circuit, after which it could eventually wind up back at the Supreme Court.
---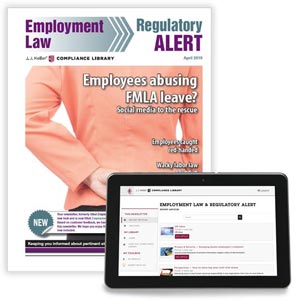 J. J. Keller's Employment Law Today newsletter explains why you need to care, what you need to do and how your business could be affected by HR industry news.
---
J. J. Keller's FREE HR SafetyClicks™ email newsletter brings quick-read safety and compliance news right to your email box.