Is your group health plan still grandfathered?
Posted February 27, 2019
If your organization managed to hang on to grandfathered status for its group health care plan under the Affordable Care Act (ACA), and you'd like to retain it, you might be interested to know that the government is looking for input on how to help.
In a request for information published in the February 25, 2019 Federal Register, the Internal Revenue Service, Employee Benefits Security Administration, and the Centers for Medicare & Medicaid Services asked for public input to help better understand the challenges that group health plans and group health insurance issuers face in avoiding a loss of grandfathered status, and to determine whether there are opportunities for the Departments to help preserve the status in ways that would benefit employers, employee organizations, plan participants and beneficiaries, and other stakeholders.
In addition to what the government can do to help generally maintain grandfathered status, it is interested in hearing about the following:
What challenges group health plan sponsors and group health insurance issuers face regarding retaining the grandfathered status of a plan or coverage.
The primary reasons for maintaining the status.
The costs, benefits, and other factors considered when determining whether to retain the status.
Whether preserving the status is important to plan participants and beneficiaries.
The typical change in benefits, employer contributions, and cost-sharing requirements that cause a plan to lose the status.
Whether the grandfathered health plan disclosure requirements provide adequate, useful, and timely information to plan participants.
Under the ACA, which was effective March 23, 2010, certain grandfathered group health plans and insurance coverage don't have to meet the full requirements of ACA plans as long as they maintain that status. Such plans, for example, do not have to cover certain preventive services without cost sharing, nor are they subject to the annual limitation on cost sharing.
A group health plan or group health insurance coverage is considered grandfathered if it has continuously provided coverage for someone (not necessarily the same person, but at all times at least one person) since March 23, 2010, and if it has not ceased to be a grandfathered plan due to certain actions taken by the plan (or its sponsor) or issuer, such as making certain changes to benefits, cost-sharing requirements, and contribution rates. Since employers often revise such coverage, it is easy to lose grandfathered status. Once grandfathered status is lost, it cannot be recovered. According to a Kaiser Family Foundation survey, only 20% of employers offering health benefits in 2018 had at least one grandfathered plan.
Comments must be received no later than 5 p.m. on March 27, 2019. They may be submitted electronically at the Federal eRulemaking Portal, by regular mail (Centers for Medicare & Medicaid Services, Department of Health and Human Services, Attention: CMS-9923-NC, P.O. Box 8013, Baltimore, MD 21244-1850), or by express or overnight mail (Centers for Medicare & Medicaid Services, Department of Health and Human Services, Attention: CMS-9923-NC, Mail Stop C4-26-05, 7500 Security Boulevard, Baltimore, MD 21244-1850).
This article was written by Darlene M. Clabault, SHRM-CP, PHR, CLMS, of J. J. Keller & Associates, Inc.
---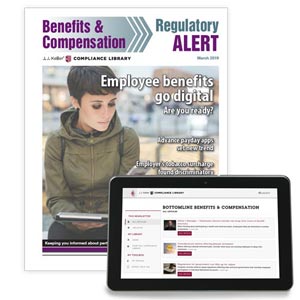 J. J. Keller's Benefits & Compensation Regulatory Alert is a monthly newsletter that addresses key issues relating to benefits and compensation programs.
---
J. J. Keller's FREE HR SafetyClicks™ email newsletter brings quick-read safety and compliance news right to your email box.