'Tis the season for sports … and employee distraction
Posted February 14, 2018
From the Super Bowl and the Winter Olympics to the 3-week run of the NCAA Final Four tournament, sports-lovers everywhere are in the midst of a rare athletic trifecta. And, for two solid months in 2018, employers everywhere are facing their own brand of competition — for employee focus.
In January, HR consulting firm Challenger, Gray and Christmas said employers should be prepared to lose up to $3 billion the day following the Super Bowl, mostly due to unexpected absences. Another Challenger figure from 2017 cited potential losses as high as $2.1 billion during the opening days of the NCAA March Madness tournament. Add in the all-day coverage and endless streaming options for this year's Winter Olympics, and many employers fear they have a lot to lose when it comes to these major sporting events.
What's the best way to eliminate these threats and keep your people on task? Experts agree: don't. Tamping down on enthusiasm for events that tend to act as unifiers and morale boosters will only cause resentment. A little planning and flexibility can actually increase your workplace productivity in the long run. Try this winning combination:
Embrace the spirit — Boost your own team's spirit and use the events as opportunities to engage employees. Consider showing the big events on a TV in the break room, or decorate the office with photos of inspirational athletes and sayings. Designate time to play your own, office-friendly version of the games to help your staff blow off some steam, or incorporate a workout bracket into your winter wellness programming. If you typically enforce a stricter dress code, let employees know it's okay to put their pride on display by wearing jerseys and colors in support of their favorite teams or countries.
Be prepared — If absenteeism is your biggest concern, try to gauge workflow and staffing needs when events are on the horizon, and let employees know how you plan to handle vacation requests. Consider announcing an incentive that will be available to those who work their regularly scheduled hours on high-absence days, or consider granting time-off requests using a lottery system if the requests become overwhelming. In addition, consider how much productivity you're willing to sacrifice in order to keep morale running high. If your work environment and infrastructure can support it, a little flexibility can go a long way with your workforce.
Reinforce your policies and expectations — Even if you do decide to take a flexible approach, employees should be reminded of your company's limits. If you expect inappropriate internet usage to be an issue during big events, you may want to remind employees of your internet policies ahead of time, and let them know you'll be monitoring usage. If scheduling is your biggest concern, remind employees of your regular attendance policies and let them know that there will be no exceptions.
Though it may seem counterintuitive, embracing these disruptive events can actually benefit your bottom line. When employee distraction is unavoidable, employers can take back control by bringing the source of that distraction to light, creating reasonable guidelines, and using it to boost morale. And, as studies continue to show, happy employees are also the most productive.
---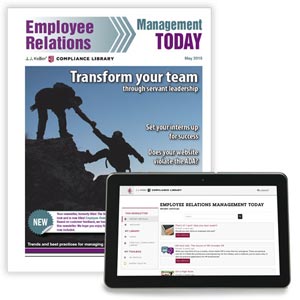 The SUPER adVISOR™ newsletter contains four pages dedicated to the HR manager and a corresponding four-page pullout dedicated to the needs of supervisors.
---
J. J. Keller's FREE HRClicks™ email newsletter brings quick-read human resources-related news right to your email inbox.