Employee's actions undermine misrepresentation argument
Posted February 1, 2018
Twyla, an employee, worked at a location with only 12 employees. Because of a medical condition, she took time off here and there, and sometimes she needed leave that spanned multiple weeks. Her absences, however, left the others at the workplace to take care of her tasks.
Even though Twyla was not eligible for FMLA leave because she did not work at a location with at least 50 company employees within 75 miles, the employer had her complete an FMLA certification, sent emails confirming that her leave was covered by the FMLA or counted against her FMLA leave entitlement. At no time did the employer advise Twyla that she was not eligible for FMLA leave, and Twyla provided an accounting of her FMLA leave to the company, and the company validated that leave.
After taking her latest leave, which lasted four weeks, the company decided to terminate Twyla. It also informed her that her 12 weeks of FMLA leave was exhausted.
Twyla sued, arguing that her FMLA rights were violated because she was not restored to her position and was prevented from taking additional leave because she was terminated.
When the employer argued that Twyla did not meet the eligibility criteria of working at a location with at least 50 company employees within 75 miles, Twyla argued that the employer should not be able to challenge (equitably estop) her FMLA eligibility because the company had misrepresented her eligibility; it took steps that led Twyla to believe that she was eligible for FMLA leave.
Twyla's argument, however, was only partially valid. While it's true that the employer misrepresented Twyla's FMLA eligibility, Twyla also needed to be able to show that she relied on that misrepresentation (which she did), and that her reliance on the misrepresentation was to her detriment. Twyla, however, could not show that she suffered injury because she relied on the employer's misrepresentation. All three components (the employer misrepresented, the employee relied on it, and that reliance was detrimental) need to be met.
Basically, Twyla took the leave, and she took actions that she would have taken whether the leave was categorized as FMLA leave or not. Her reliance on the employer's representations was not detrimental to her because she would have done the exact same thing — taken her latest round of leave — even if the employer had never misrepresented her FMLA eligibility.
While Twyla tried to counter this argument by claiming that she did change her position for the worse based on the misrepresentations, that had she known her last leave was not protected under the FMLA, she could have pursued some other course of action, such as returning to work early. She failed, however, to provide evidence to that effect. She had actually claimed that she could not work, so her argument that she could have returned early did not convince the court.
This case provides a nice reminder that if an employee is not eligible for FMLA leave, employers should refrain from leading the employee to believe he or she is. If this employer had not done all those misrepresenting FMLA-related steps, it might not have needed to defend its actions in court.
Schuler v. The Dow Chemical Co., W.D.N.Y., No. 14-CV-1043-MJR, January 3, 2018
---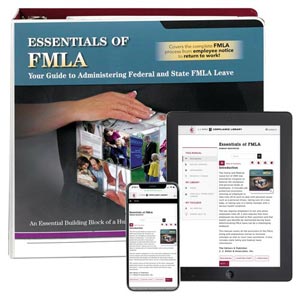 J. J. Keller's Essentials of FMLA manual helps HR pros understand and comply with the FMLA rules, control costs related to leave taken, and minimize the law's potential disruption to their organizations' operations.
---
J. J. Keller's FREE HRClicks™ email newsletter brings quick-read human resources-related news right to your email inbox.