Democratic staff report urges DOT to address increased drug use for transportation workers
Posted February 12, 2018
A Democratic staff report — initiated by Representative Peter DeFazio (D-OR) following numerous transportation accidents involving illicit drug use — found significant gaps in the U.S. Department of Transportation's (DOT) drug and alcohol testing program. The report highlighted the risk to the transportation network system from drug and alcohol abuse.
The six-month in-depth review evaluated patterns of increased drug usage in the United States — specifically opioid — across each of the modes of transportation. The report included 10 findings and 15 recommendations to DOT and Congress to improve transportation safety.
"… Staff found that while DOT is effectively carrying out drug and alcohol requirements, there are significant gaps that should be addressed to mitigate risk and improve transportation safety. I urge the Department to consider the findings and recommendations made in the report, to ensure the safety of our roads, rails, pipelines, navigable waters, and skies," said DeFazio, Ranking Member of the House Committee on Transportation and Infrastructure.
Report findings
The Democratic staff report found:
An increase in drug misuse and abuse among transportation workers. Over the past 18 years, the National Transportation Safety Board investigated 381 fatal accidents involving drugs or alcohol.
Drug and alcohol positive rates among transportation workers is not readily available to the public.
Not all safety-sensitive positions are covered in DOT drug and alcohol regulations. For example, they do not address employees of foreign aircraft repair stations.
Many drugs go undetected because DOT drug testing is limited to the 5-panel drug test.
State laws legalizing marijuana require more focus on the potential impact on transportation safety.
Current DOT post-accident testing limits DOT's ability to obtain accurate and complete data; determine the true causes of accidents; and revise regulations.
Exempt entities, that do not report drug and alcohol violations to DOT, limit the Department's ability to thoroughly evaluate drug and alcohol use among transportation workers.
Health and Human Services (HHS) needs to develop scientifically-based standards for alternate testing methods, such as hair and oral fluid testing.
Gaps exist in training and resources provided to employers and employees.
Fifteen key recommendations were provided in the report, including:
Revisions to DOT regulations to ensure alcohol and controlled substances testing programs encompass all employees and agents performing safety-sensitive functions;
Addressing any gaps that currently exist in employees and agents who are tested; and
DOT providing, at a minimum, drug and alcohol positive rates for each of the modes of transportation annually in an easily accessible format.
Transportation Secretary Chao, HHS Secretary Azar, and United States Coast Guard Commandant Zukunft received a copy of the report.
---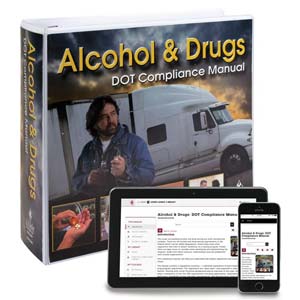 J. J. Keller's Alcohol & Drugs DOT Compliance Manual can help you understand and comply with DOT's Alcohol & Drug Testing requirements, including 49 CFR Parts 382 and 40.
---
J. J. Keller's FREE Transportation SafetyClicks™ email newsletter brings quick-read safety and compliance news right to your email box.