Asking teacher to complete lesson plans while on leave was interference
Posted February 22, 2018
Every now and then, a court case comes along that prompts me to whisper, "whoopsidoodles" (as one of my coworkers has been known to say), in regard to an employer's actions. A recent case has, again, prompted this response.
The case involves Emily (not the plaintiff's real name), who worked for a public school, and whose job involved creating curriculum and writing programs. A new principal came along and had concerns about Emily's job performance, so Emily was reassigned to a classroom position.
During her tenure, Emily took leave a few times. The last time she requested leave, she provided a certification, and was asked to provide a second opinion, which she did. During the leave, she was asked to provide lesson plans for the entire year and post student grades.
Emily continued to struggle, and years after unsatisfactory performance ratings, she was required to go through a remediation plan. Emily did not, however, cooperate with the process. Eventually Emily was terminated.
As is often the case, Emily sued, claiming that the employer interfered with her FMLA rights by requesting a second opinion and by requiring her to work during her leave. The employer, on the other hand, argued that it asked Emily a few non-intrusive questions, such as the location of the lesson plans.
The court in this case didn't have a problem with the employer requesting a second opinion. It did, however, have a problem with the employer demanding that Emily perform work such as providing lesson plans and posting grades. This, the court felt, crossed the line into interfering with Emily's FMLA leave rights.
Neither the statute nor the regulations provide a lot of detail in regard to what might be considered "working" while on leave, and what might not. To help illustrate, however, consider the following two requests:
"Emily, could you please give us a status report on the X-project and perhaps lend some insight into how you foresee it progressing in your absence? Maybe identify someone who could step in to help during your absence?"
"Emily, could you please finish up the current step of the X-project while you're out? That way we can start the next step fresh. Maybe you can also identify someone who could pick up at the next step."
While the first one asks for basic status information, the second one requests that the employee continue working. If any of you are compiling a list of what might be construed as requesting work while on leave, feel free to add "completing lesson plans" for teachers.
Hall v. Board of Education of the City of Chicago, N.D. Ill., No. 14-cv-3290, January 29, 2018
---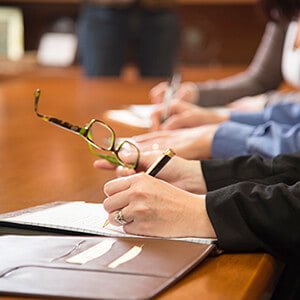 J. J. Keller's Family and Medical Leave Act (FMLA) Consulting Service can help your company ensure compliance with FMLA requirements and minimize the law's burden to your organization.
---
J. J. Keller's FREE HRClicks™ email newsletter brings quick-read human resources-related news right to your email inbox.