And Maryland makes 10
Posted February 8, 2018
Maryland has joined Arizona, California, Connecticut, D.C., Massachusetts, Oregon, Rhode Island, Vermont, and Washington in the continuing trend of state paid sick leave. Here's the rundown.
Maryland employers were not given a lot of time to prepare for the Healthy Working Families Act, as it is effective 2/11/18. The law requires employers with 15 or more employees are to provide accrued paid sick/safety leave to employees. Employers with under 15 employees are to provide accrued unpaid sick/safety leave.
Employees are eligible if they work 12 or more hours per week. The provisions do not, however, apply to employees:
In the construction industry,
Covered by a CBA that waives the leave, or
Called to worn on an as-needed basis in a health or human services industry.
Employees begin accruing leave 1/1/18 or upon hire. They accrue one hour of leave for every 30 hours worked. They need not accrue leave during:
A two-week pay period in which they worked fewer than 24 hours,
A one-week pay period if they worked fewer than a combined total of 24 hours in the current and immediately preceding pay period, or
Pay periods in which they are paid twice a month regardless of the number of weeks in a pay period and they worked fewer than 26 hours in that pay period.
Employers are not required to allow employees to:
Accrue more than 40 hours of leave in a year,
Use more than 64 hours of leave in a year,
Accrue a total of more than 64 hours at any time.
Employers may have a waiting period of 106 days after hire, during which an employee may not use leave.
Employers may front-load the leave at the beginning of each year instead of awarding it as it accrues. If so, the employer need not allow an employee to carry over unused leave. Otherwise, employees may carry over, but employers may limit the carry over to 40 hours. Unused leave need not be paid out upon termination.
Leave may be taken for the following reasons:
To care for or treat the employee's own mental or physical condition;
To obtain for preventive care for the employee or family member;
To care for a family member with a condition;
For maternity or paternity;
When necessary due to domestic violence, sexual assault, or stalking committed against the employee or family member.
Family members include the following:
A biological, adopted, or foster child; a stepchild; a child for whom the employee has legal or physical custody or guardianship; or a child for whom the employee stands in loco parentis regardless of the child's age.
A biological, adoptive, or foster parent; a stepparent, a legal guardian of the employee, or someone who stood in as a parent to the employee or employee's spouse when the employee or spouse was a child.
A spouse.
A biological, adopted, or foster grandparent, or stepgrandparent.
A biological, adopted, or foster stepgrandchild.
A biological, adopted, or foster sibling, or a stepsibling.
If the need for leave is foreseeable, employers may require reasonable advance notice of not more than seven days before the leave is to begin. If the need for leave is not foreseeable, employees are to provide notice as soon as practicable. Employees are generally expected to comply with the company notice or procedural requirements for requesting other leave, assuming those requirements do not interfere with the employee's ability to use earned sick and safe leave.
Employers may, however, deny a leave request under the following situations:
An employee does not provide notice,
The absence will cause a disruption to the employer, or
The employer provides services to developmentally disabled or mentally ill individuals and:

The need for leave is foreseeable,
The employer cannot find a replacement, and
The employee's absence will cause a disruption of service.
Employees may choose to make up an absence instead of using accrued leave. Otherwise, they may take leave in the smallest increment the payroll system uses to account for other absences. Employees may not be required to take leave in an increment of more than four hours.
Employers may require employees to provide verification that the leave was used appropriately if the employee took more than two consecutive shifts or used leave between the first 107 and 120 calendar days of hire.
When wages are paid, employers are to provide a written statement of the amount of leave available for use by the employee. This may be done electronically. Employers are to retain records related to the leave for at least three years.
Employers are to post a notice regarding the law's provisions.
The law includes special provisions for tipped employees in the restaurant industry.
Employers may not take an adverse action because an employee took leave.
---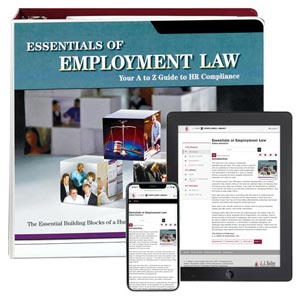 J. J. Keller's Essentials of Employment Law Manual covers more than 100 vital HR topics, including FMLA, ADA, HIPAA, FLSA, COBRA and more.
---
J. J. Keller's FREE HRClicks™ email newsletter brings quick-read human resources-related news right to your email inbox.