What skills do workers say managers need to improve?
Posted February 17, 2017
Strong communication skills are necessary at every career stage, but especially for those in leadership positions. In a new study, however, nearly one in three workers (30 percent) did not give the boss high marks in this area, reporting communication and diplomacy are where managers most need improvement. Greater technical expertise (18 percent) and leadership (17 percent) ranked second and third, respectively, on professionals' wish lists.
The study from Robert Half Management Resources asked workers, "Which skill do you think your manager needs to improve most?" Their responses:
Communication/diplomacy — 30 percent
Technical expertise — 18 percent
Leadership — 17 percent
Strategic thinking — 14 percent
Project management — 8 percent
Other — 14 percent
* Responses do not total 100 percent due to rounding
Robert Half Management Resources highlights five ways managers can assess and improve their communication skills:
Request 360-degree feedback. Opinions from your manager, peers, and employees are invaluable. Ask them about your strengths and weaknesses, their communication preferences, and how you can make it easier for them to come to you with questions or concerns. Not everyone will feel comfortable giving candid feedback, so consider gathering input anonymously.
Find a role model. Think of a manager you admire who enjoys great rapport with his or her staff. What makes this person stand out? Observe how he or she interacts with others.
Define your comfort zone – and go outside of it. If you struggle handling difficult conversations, ask a mentor or trusted colleague for pointers. If giving presentations is not your strong suit, take a public speaking class or join a group like Toastmasters.
Practice active listening. In conversations, focus on what others are saying instead of formulating your next thought. Pause an extra second before jumping in to make sure you don't interrupt others.
Be yourself. Don't try so hard to be a manager that you stop being an individual. Be honest and relatable, and show vulnerability from time to time. To err is human – your team wants to know that you are not perfect and don't expect them to be either.
About the research
The survey was developed by Robert Half Management Resources and conducted by an independent research firm. It includes responses from more than 1,000 U.S. workers 18 years of age or older and employed in office environments.
---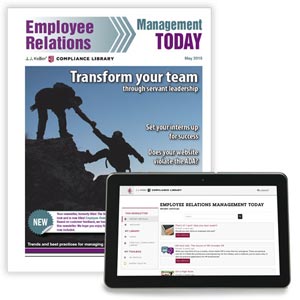 The SUPER adVISOR™ newsletter contains four pages dedicated to the HR manager and a corresponding four-page pullout dedicated to the needs of supervisors.
---
J. J. Keller's FREE HRClicks™ email newsletter brings quick-read human resources-related news right to your email inbox.