House begins process of rolling back environmental rules
Posted February 3, 2017
On February 1, the U.S. House of Representatives passed resolutions under the Congressional Review Act to nullify two recently finalized environmental rules.
Stream Protection Rule
H.J. Res. 38, passed by joint resolution with 228 to 194 votes, disapproves the rule submitted by the Department of the Interior's Office of Surface Mining Reclamation and Enforcement on December 20, 2016. The Stream Protection Rule requires coal mining companies to address the impacts of surface mining operations, also called "mountaintop mining," on surface and groundwater.
The Senate is considering a similar measure.
Disclosure of payments by resource extractors
H.J. Res. 71 provides for Congressional disapproval of a Securities and Exchange Commission rule requiring oil and gas extraction companies to disclose the payments they make to foreign countries. The bill passed the House by a recorded vote of 321 to 191.
The Senate is expected to take action on this bill soon.
Congressional Review Act
The Congressional Review Act is a rarely used tool whereby a simple majority vote and presidential approval can repeal an entire regulation, so long as that regulation was submitted for Congressional review within the last 60 days of a session of Congress during the final year of a president's term. Until now, it had only been used once, to repeal OSHA's Ergonomics rule shortly after President George W. Bush began his first term.
Note that the House also recently passed the Midnight Rules Relief Act of 2017. This bill would amend the Congressional Review Act to allow Congress to consider a joint resolution to disapprove multiple regulations at once.
---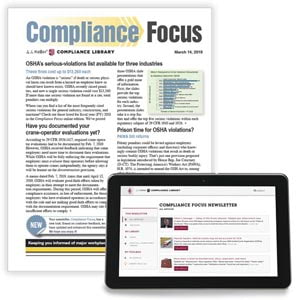 J. J. Keller's Compliance Focus helps you stay on top of critical regulatory developments from: DOT, OSHA, EPA, DOL, MSHA, EEOC, DHS and other agencies.
---
J. J. Keller's FREE Workplace SafetyClicks™ email newsletter brings quick-read workplace safety and compliance news right to your email box.