DOL can impose a penalty for failure to display FMLA poster
Posted February 3, 2017
Workplace bulletin boards are generally covered with posters and notices, including those required under federal and state laws. The poster requirements change every now and then, so employers need to be vigilant in keeping their posters up to date. This can be a time-consuming practice, and can easily fall by the wayside. Perhaps you've found yourself wondering what would happen if you failed to post the Family and Medical Leave Act (FMLA) poster. One employer found out.
Case in point
An employee, who was not literate in English, was injured and took leave from work. After months of leave, the employee was terminated, and the reason provided was because the employee did not call in for at least three days. The employee felt he was fired because he received too many attendance points.
The employee sued, arguing in part that he and other employees who were illiterate in English were harmed because the employer failed to post an FMLA notice in a language in which they were literate. Because of this, the employees did not know they had the right to request and/or take protected leave. In other words, the employee tried to assert a private action against the employer for its poster violation.
The court, however, referred to the statute and the regulations regarding an employer's posting requirement and the repercussions for violating the provision. It found that only the Department of Labor (DOL) may determine whether an employer has committed a violation of the posting requirement, and only the DOL may issue and serve a notice of penalty. Nowhere is it noted that a private right of action for a posting violation exists. The penalty is limited to a civil money penalty, and only the DOL may assess such a penalty or take action.
The employees tried to argue that, because they were harmed, they did have a private right of action. They, however, confused the individual notice (the eligibility/rights & responsibilities notice and the designation notice) requirements with the general posting requirement. For the poster, there remains no right to a private action.
Therefore, if you are ever caught without a current FMLA poster, you might not be looking at a private claim, but the DOL could fine you. As of January 13, 2017, the penalty for not posting the FMLA notice rose to $166 for each separate violation.
The current version of the FMLA poster is dated April 2016, but the February 2013 version is also acceptable.
Please note that the FMLA poster needs to be located where employees and applicants can see it. This includes electronic means of applying for jobs.
Antoine, et al., v. Amick Farms, LLC; U.S. District Court, Maryland; 1:16-cv-02938, January 6, 2017.
This article was written by Darlene Clabault of J. J. Keller & Associates, Inc.
---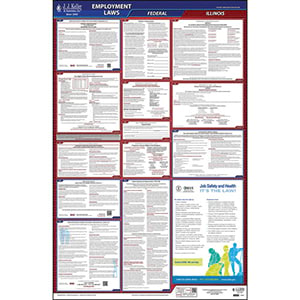 J. J. Keller's State & Federal Employment Law Posters help you meet state and federal labor law posting requirements.
---
J. J. Keller's FREE HRClicks™ email newsletter brings quick-read human resources-related news right to your email inbox.