What will the new administration mean for trucking?
Posted January 22, 2021
Now that Joe Biden has been sworn in as U.S. President, motor carriers are wondering what his administration will mean for the trucking industry.
Executive actions
While Democratic administrations tend to favor new safety initiatives, much of an administration's success in passing new laws hinges on congressional approval. At first, it was unclear whether that would be an option after control of the Senate remained undecided until a Georgia runoff election in January.
Now, with control of both the House and Senate, it's likely that Biden will rely more on passing laws and less on executive actions, when possible. Still, the administration is expected to issue a number of key executive actions early in the term.
Personnel changes
One of Biden's first acts will likely be to fill open seats at key agencies, like the Department of Transportation (DOT), Federal Motor Carrier Safety Administration (FMCSA), and Pipeline and Hazardous Materials Safety Administration (PHMSA). Biden has already announced his picks to fill many of the positions most important to the transport industry, including Pete Buttigieg as Secretary of Transportation.
Shortly after the 2020 election, Biden assembled a DOT transition team, focused on helping prepare the incoming administration to hit the ground running in terms of policy and filling open seats. This may be a welcome change for an agency like FMCSA, which hasn't had an official administrator since Raymond Martinez stepped down in 2019.
Infrastructure and other priorities
Early executive actions could involve reversing Trump-era policies, including his decision to withdraw the U.S. from the Paris Climate Accord. Biden has suggested that rejoining the Accord would be among his first executive actions on day one. With a dual focus on clean energy and environmentally friendly infrastructure, this proposed action could have a big impact on the transportation industry.
As a candidate, Biden also put forward a wide-ranging infrastructure proposal with funds for highways, water systems, the power grid, and broadband services. While it remains to be seen how much of that plan, he is actually able to accomplish, infrastructure will undoubtedly remain a top priority for key transportation stakeholders.
In addition to new proposals, we may also see movement on some existing items of interest. For example:
Hair testing rules may change or be withdrawn;
Marijuana legalization could be reviewed, leading to changes in drug-testing protocols;
The speed-limiter rule may come back, requiring fleets to limit the speed of their interstate trucks;
Insurance-coverage requirements may increase;
Changes to the hours-of-service short-haul exemption may be on the table, to reverse recent changes; and
A sleep-apnea rulemaking could proceed.
The new administration may also reconsider existing regulations, including:
Hours-of-service rules;
Driver compensation;
Detention time;
Off-duty hours;
Personal-conveyance standards; and
Rear/side underride guard standards.
Midnight regulations
So-called "midnight regulations" are a fairly common practice in outgoing administrations, especially when there will be a change in political parties. The approach involves fast-tracking guidance and rules that might otherwise take years to pass through the regulatory process. Recent examples include a new regulation affecting hours-of-service exemptions for truckers hauling agricultural goods, issued November 24, 2020, and looser safety standards for pipeline construction and maintenance, issued January 11, 2021.
In its final months, the Trump administration published at least 50 of these last-minute rules in the Federal Register. Unlike executive actions, which can be undone with the stroke of a pen, completed regulations like these are much harder for an incoming president to overturn. Once a rule is published, reversing it usually involves further rulemaking or a court decision, both of which demand significant time and resources.
Highway bill
In December, Congress approved an appropriations bill to fund the federal government and provide COVID-19 relief. The bill extended the current highway authorization program, the Fixing America's Surface Transportation (FAST) Act, through September 30, 2021.
This extension allows the next Congress to consider a long-term approach to highway funding and revenue issues. Experts speculate that with Democrats now in control of the Senate, the final bill may include many "green" provisions, as we saw recently in a bill passed by the Democratic-controlled House. These provisions may result in more funding for things like trains, infrastructure, intelligent transportation systems, electric vehicles, and climate-change initiatives.
It's always difficult to speculate on exactly what's to come under a new presidential administration, but it's safe to assume that the impact of this particular election will be felt far and wide. How and when that impact translates to the transportation industry remains to be seen, however, as agency appointments and regulatory changes can be relatively slow moving.
This article was written by Ann Potratz of J. J. Keller & Associates, Inc.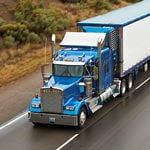 Looking for more on transportation safety?
Get the information and products you need to stay on top of industry changes and comply with regs.