What is the labor law poster impact of the Department of Labor FLSA joint employer final rule?
Posted January 15, 2020
A new final rule defining joint employment under the Fair Labor Standards Act (FLSA) won't bring a mandatory posting change. It will impact who needs to make sure the FLSA poster is on the wall, however.
On January 12, the Department of Labor (DOL) released a final rule that brings some clarity to who is a joint employer under the FLSA.
From a labor law posting perspective, the clarifications mean that:
A business that directly controls worker wages (such as pay rate and overtime) needs to make sure the FLSA poster is displayed.
A company that is a franchisor and has little control over employee pay or work schedules has less risk of a posting violation relating to franchisees. The same holds true for a business that contracts with companies for outside services, such as cleaning.
Balancing test
The final rule, which goes into effect on March 16, includes a balancing test that determines whether a company is a joint employer under the FLSA. It looks at whether an employer:
Hires or fires the employee;
Supervises and controls the employee's work schedule or conditions of employment to a substantial degree;
Determines the employee's rate and method of payment; and
Maintains the employee's employment records.
It does not look at whether one company requires another to:
Comply with FLSA obligations,
Institute a sexual harassment policy,
Conduct a background check,
Establish safety practices and protocols,
Ensure that workers receive health, safety, or compliance training,
Meet quality control standards,
Use standardized products or services,
Provide a sample employee handbook or other forms,
Offer an association health plan or association retirement plan,
Jointly participate in an apprenticeship program with the company.
Why do I want to know?
It's important for a business to know whether or not it is a joint employer under the FLSA because it impacts liability and the risk for lawsuits.
If two companies are joint employers, both are at risk for lawsuits relating to wage and hour violations. If a company is not considered a joint employer, then it is not at as great of a risk.
Posting obligations
The joint employer final rule does not mention the FLSA poster, which needs to be displayed by employers subject to the FLSA's minimum wage provisions.
Employers with direct control over workers must make sure the poster is readily displayed, however.
Employers not considered joint employers under this final rule would not have as great of a risk relating to lawsuits from franchisee employees or workers of the contracted company. These employers could make proper display of employment law posters part of a business contract, however.
This article was written by Terri Dougherty, SHRM-CP, PHR, of J. J. Keller & Associates, Inc.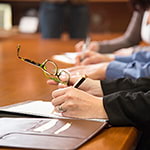 Looking for more on HR compliance?
Get the information and products you need to stay on top of industry changes and comply with regs.