OSHA to convene SBREFA panel for possible tree care operations standard
Posted January 7, 2020
OSHA recently notified the SBA Office of Advocacy and the Office of Information and Regulatory Affairs (OIRA) of its intent to convene a Small Business Advocacy Review (or SBREFA) panel within the next 60 days for a possible tree care operations standard. At that time, the Agency will meet with small entity representatives to review related background materials that may be included in a future rulemaking.
OSHA says the potential tree care operations standard could cover employees exposed to hazards in tree care operations (including pruning, maintaining, repairing, or removing trees), as well as establish safe work practices for such operations.
Potentially regulated entities would include tree trimmers and pruners who engage in daily tree care operations work, as well as companies, municipalities, and organizations that occasionally perform tree care and removal as part of their operations (e.g., residential and commercial construction and remodeling, landscaping, golf course maintenance, power and pipeline clearing, certain agricultural operations, etc.).
Once the SBREFA panel is formally convened, OSHA will make its background materials available to the public in the rulemaking docket.
This article was written by Rachel Krubsack of J. J. Keller & Associates, Inc.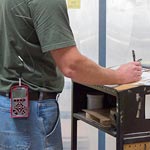 Looking for more on workplace safety?
Get the information and products you need to stay on top of industry changes and comply with regs.