Study shows nonfatal injuries remain high among firefighters
Posted January 8, 2019
Firefighters continue to experience frequent nonfatal injuries, particularly sprains and strains, according to a National Institute for Occupational Safety and Health (NIOSH) study.
Investigators looked at nonfatal injuries to firefighters from 2003 through 2014, as identified in the National Electronic Injury Surveillance System (NEISS-Work) occupational supplement. NEISS-Work is administered by the U.S. Consumer Product Safety Commission, and compiles work-related injury information from a representative sample of emergency departments in the U.S.
The study found that during that time period, approximately 351,800 firefighters received treatment in an emergency department for nonfatal injuries. NIOSH says this number translates to 260 injuries for every 10,000 firefighters overall, including career and volunteer workers. Among career firefighters only, the annual rate rose to 699, while volunteer workers had a rate of 39 injuries per 10,000 firefighters.
The majority (38 percent) of injuries occurred during firefighting activities, while 7 percent occurred during training, and 7 percent occurred during patient care.
NIOSH says the findings highlight the importance of additional research and prevention needs in the areas of lifting techniques and body posture and movements. The Agency intends to conduct surveys of injured firefighters to gather more details. The information will be used to determine common injuries and exposures, assist in identifying subsets of the firefighting population who are at most risk for occupational injuries and exposures, and identify circumstances and activities that put firefighters at risk.
---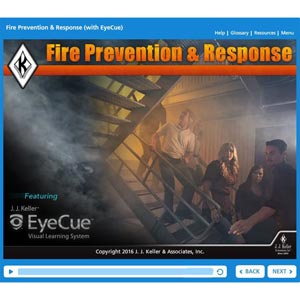 J. J. Keller's Fire Prevention & Response: What Employees Need to Know - Online Training Course helps teach employees about fire hazards in the workplace and what to do in case of a fire.
---
J. J. Keller's FREE Workplace SafetyClicks™ email newsletter brings quick-read safety and compliance news right to your email box.