New OSHA bulletin focuses on lithium battery safety
Posted January 29, 2019
OSHA has released a new Safety and Health Information Bulletin (SHIB) focused on preventing fire and explosion injuries from wearable devices that contain lithium batteries. Workers who wear or frequently handle lithium-powered devices or batteries may be at risk if the battery catches fire or explodes since the device or battery is close to the body. For example, small cameras worn by workers (e.g., police and security personnel) can cause burns or other serious injury if the battery catches fire or explodes while worn.
OSHA says that while lithium batteries are generally safe and unlikely to malfunction, damage from physical impact, exposure to certain temperatures, and/or improper charging can cause them to fail.
The SHIB provides prevention and training guidelines for employers:
Ensure lithium batteries, chargers, and associated equipment are tested in accordance with an appropriate test standard and certified by a Nationally Recognized Testing Laboratory (NRTL) and are rated for their intended uses.
Follow manufacturer's instructions for storage, use, charging, and maintenance.
When replacing batteries and chargers for an electronic device, ensure they are specifically designed and approved for use with the device and are purchased from the device's manufacturer or a manufacturer authorized reseller.
Remove lithium-powered devices and batteries from the charger once they are fully charged.
Store lithium batteries and devices in dry, cool locations and in fire-resistant containers.
Avoid damaging lithium batteries and devices. Inspect them for signs of damage, such as bulging/cracking, hissing, leaking, rising temperature, and smoking before use, especially if they are wearable. Immediately remove a device or battery from service and place it in an area away from flammable materials if any of these signs are present.
If batteries are damaged, remove from service and dispose in accordance with local, state, and federal regulations. Contact a local battery recycling center for disposal instructions.
Follow the employer's policy or manufacturer's guidance on how to extinguish small battery fires.
Ensure that an emergency action plan (EAP) for a workplace with lithium-powered devices or batteries includes lithium-related incident response procedures based on manufacturer's instructions for responding to battery failures including fires or explosions.
Ensure that appropriate information about the hazards of lithium-powered devices and lithium batteries is communicated to exposed workers (e.g., during repair of lithium-powered devices or during recycling activities) and that workers receive training on the physical and health hazards associated with lithium-ion and/or lithium-metal cells or batteries.
---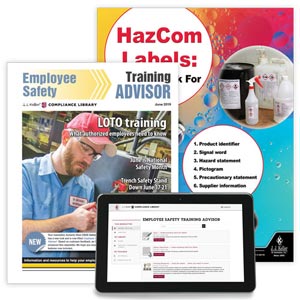 J. J. Keller's OSHA Safety Training Newsletter helps you improve your training techniques and meet OSHA requirements.
---
J. J. Keller's FREE Workplace SafetyClicks™ email newsletter brings quick-read safety and compliance news right to your email box.