Bad weather and the FMLA
Posted January 10, 2019
Welcome to winter where, in some locations, this means ice, snow, and wind, which combined can make travel challenging if not downright dangerous. Some companies might even shut down when Mother Nature gets nasty and, if not, some employees might want to invoke the FMLA if they want to avoid driving to work.
So, how does the FMLA work in bad weather situations?
Employer shut down
If you have an employee who is taking FMLA leave in full week increments, the fact that you shut down for a day or two has no effect; the employee will still take a full week of FMLA leave, and you may count it as a full week of leave.
If, on the other hand, you have an employee who is taking FMLA leave in less-than-full-week increments (such as intermittent or reduced schedule leave), and the employee misses work due to an FMLA-qualifying reason, you may count that time away as FMLA leave, assuming the employee was otherwise scheduled to work during the day or days.
This brings us to employees who might want to invoke the FMLA for a snow day.
Employee absence
Missing work because of bad weather does not qualify for FMLA protections. If you are struck with a blizzard, tornado, hurricane, or other storm, but you keep your doors open and expect employees to show up to work, you might receive a number of calls from employees indicating that their bursitis is acting up or they have a migraine; for which they have a certification supporting the need for leave for such reasons.
While determining which employees (if any) might be playing fast and loose with their FMLA leave can be a challenge, you (or the applicable supervisor) might have an idea if an employee is not being totally honest. Past behavior can generally predict future behavior.
To help curb abuse, while you may not request a doctor's note for each instance of intermittent or reduced schedule FMLA leave, you may request a personal certification, as long as you have a policy for requesting these to similarly situated employees for leave reasons that don't fall under the FMLA as well.
Such a personal certification can be a simple form which has the employee attest that the absence was for a valid reason (FMLA or otherwise), and that providing false or misleading information regarding the absence may be grounds for discipline. The FMLA does not address personal certifications; your company policy, therefore, would. The practice should be usual and customary, applied to all employees, not just those who take FMLA leave.
Don't let FMLA challenges rain on your parade. You may take some steps to keep track of FMLA leave during weather emergencies, and work to try to keep employees honest.
This article was written by Darlene M. Clabault, SHRM-CP, PHR, CLMS, of J. J. Keller & Associates, Inc.
---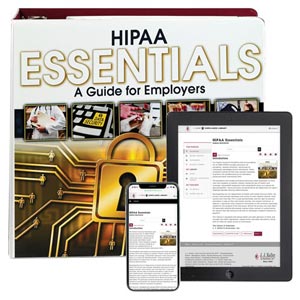 J. J. Keller's HIPAA Essentials Manual helps you make sense of your organization's role and responsibilities under HIPAA - the Health Insurance Portability and Accountability Act of 1996.
---
J. J. Keller's FREE HR SafetyClicks™ email newsletter brings quick-read safety and compliance news right to your email box.