Washington employer faces state's first felony charges for a workplace fatality
Posted January 12, 2018
The owner of a Seattle-area construction company faces criminal manslaughter charges connected to the death of an employee. This is the first time a Washington state employer has been charged with a felony for a workplace fatality.
The Washington State Department of Labor & Industries (L&I) says the charges "make a clear statement about the responsibility of companies to keep workers safe on the job, and the serious consequences if they knowingly didn't."
The King County Prosecuting Attorney's Office filed second-degree manslaughter charges against the owner of the company over the death of the worker who was killed when the dirt walls of the trench he was working in collapsed and buried him.
The L&I cited and fined the company in 2016 for multiple workplace safety violations connected to the incident. According to the L&I, the company had dug trenches to replace a sewer line; however, the company did not comply with safety regulations that apply to trench work.
The company was cited for a willful violation with a penalty of $35,000 for not ensuring that trenches and excavations four-feet deep or more had a protective system in place to prevent the sides from caving in. The trench where the worker died was seven feet deep.
The company was also cited for five serious violations, including:
Not having a formal accident prevention program tailored to the needs of the operation and the type of hazards involved in trenching and excavation work ($3,500).
Not having a ladder, ramp, or other safe means of exiting the excavated trench ($3,500).
Not supporting sidewalks and structures that were undermined to protect employees from possible collapse ($3,000).
Placing excavated dirt and other materials less than two feet from the edge of the unprotected trench, where they could fall into the trench where employees were working ($3,000).
Not inspecting the excavations daily to monitor changing soil conditions ($3,500).
L&I says that excavation and trenching are among the most hazardous construction jobs. Cave-ins from trenching work kill at least two dozen workers each year in the United States. Employers are required to provide adequate protections to prevent trench cave-ins, and workers should never enter an unprotected trench – even for a quick task.
In comments on the manslaughter charges, L&I Director Joel Sacks said, "This company knew what the safety risks and requirements were, and ignored them. The felony charges show that employers can be held criminally accountable when the tragedy of a preventable workplace death or injury occurs."
---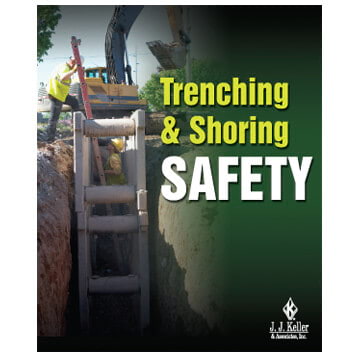 J. J. Keller's Trenching & Shoring Safety training teaches construction workers how to be safe when working around excavations.
---
J. J. Keller's FREE Workplace SafetyClicks™ email newsletter brings quick-read workplace safety and compliance news right to your email box.