TRI National Analysis reports continued reductions in industrial chemical releases
Posted January 31, 2018
EPA's 2016 Toxics Release Inventory (TRI) National Analysis is now available. According to the analysis, since 2006, releases to the environment have decreased by 21 percent, largely driven by continued reductions in air emissions. The data shows that in the last ten years, air releases of TRI-listed chemicals have fallen by 58 percent at industrial facilities submitting data to the program. While almost every sector reduced its air releases, the largest reduction came from the electric utilities sector.
Nearly 22,000 facilities submitted TRI data for calendar year 2016. EPA says facilities can use the data to learn from their counterparts' best practices and adopt additional methods for reducing pollution.
Under the Emergency Planning and Community Right-to-Know Act (EPCRA), facilities in industrial sectors such as manufacturing, metal mining, utilities, and hazardous waste management must report their annual releases of TRI-listed chemicals for the prior year to EPA by July 1. These facilities also submit information on their pollution prevention and other waste management activities to the TRI program. This information is publicly available on EPA's TRI Program website.
Highlights from the 2016 data
The most releases were to land, primarily from metal mining operations.
Industrial facilities reported implementing 5,900 new source reduction activities that eliminated or reduced the creation of chemical waste.
87 percent of 28.80 billion pounds of chemical waste was not released into the environment due to preferred waste management practices such as recycling, energy recovery, and treatment.
Coal- and oil-powered electric utilities and paper manufacturing facilities reported the greatest reductions in air releases.
Hydrochloric acid, sulfuric acid, toluene, and mercury were among the chemicals with significantly reduced air releases.
Since 2006, combined hydrochloric acid and sulfuric acid air releases declined more than 573 million pounds; mercury and mercury compounds declined more than 89,000 pounds at TRI-covered facilities.
---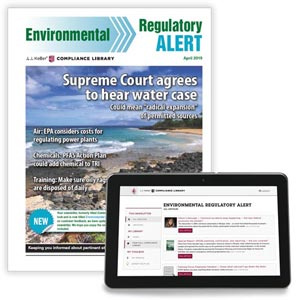 J. J. Keller's Environmental Alert: The Compliance Guide for Safety Professionals helps you stay on top of the latest environmental enforcement issues.
---
J. J. Keller's FREE Workplace SafetyClicks™ email newsletter brings quick-read workplace safety and compliance news right to your email box.