ISO 45001 approved! A potential game-changer for safety management systems
Posted January 29, 2018
Late last week, the final version of ISO 45001 – Occupational health and safety management systems, was approved by voters of countries from around the world. The standard, which will likely be a game-changer in the world of voluntary safety management standards, is expected to be published within a few weeks.
ISO 45001 is the first occupational safety and health management system standard to be internationally accepted, providing a framework for employers to work with to improve safety and health and reduce risk. It will, in most cases, replace OHSAS 18001 — though those conforming to OHSAS 18001 are expected to have a three-year transition period.
Most businesses have had to implement some sort of ISO standard in the past, for quality, security, environmental management, or something else. In fact, many businesses have had to implement ISO standards in order to compete in their industry sector. Because the ISO 45001 standard is designed to be compatible with other ISO standards, businesses that already implement an ISO standard will have a leg up if they decide to work toward ISO 45001 conformance.
Down the road, it's very possible that this standard will take on that same type of weight — the one you must have to compete. It's obviously too early to say how it will pan out, or how long it will take to catch on … but this standard is likely the wave of the future for voluntary safety and health management systems.
Compliance versus certification
As with many ISO standards, such as ISO 14001 for environmental management, "compliance," though used throughout the standard, does not refer to OSHA compliance. The standard will not be enforceable by OSHA. However, registrars will "certify" employers who wish to choose that path for business purposes.
Employers will need to implement effective systems and documentation as outlined in the standard and undergo rigorous onsite evaluation to achieve certification. The benefits, however, could be vast — from gaining a competitive edge in contract bidding to being able to conduct business overseas. Other benefits could include lowered injury costs, improved productivity, and better employee participation in safety.
It is likely that many of the same organizations who certify establishments for ISO 14001 and OHSAS 18001 compliance will be able to certify conformance to the new ISO 45001 as well.
---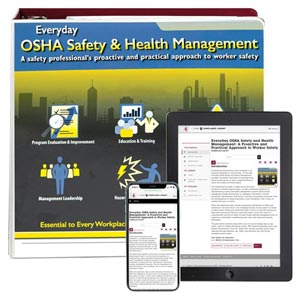 J. J. Keller's Everyday OSHA Safety & Health Management Manual provides "how-to" guidance and tools on a wide range of workplace health and safety issues.
---
J. J. Keller's FREE Workplace SafetyClicks™ email newsletter brings quick-read workplace safety and compliance news right to your email box.