Fraudulent medical services result in debarment
Posted January 31, 2018
A Missouri businessman, his medical facility, and a chiropractor associated with him were debarred by the Federal Motor Carrier Safety Administration (FMCSA) from doing business with the federal government for a period of five years.
Previously, the businessman appeared in U.S. District Court, Kansas City, Missouri, in April 2017, where he pleaded guilty to making false statements and to healthcare fraud. The charges were related to fraudulent medical examinations of commercial motor vehicle (CMV) drivers and veterans. The defendant was the owner and president of a medical facility that provided DOT drug testing services and CMV driver physical examinations.
According to the case, the businessman — who was not a licensed medical practitioner — signed the name of a legitimate chiropractor, without permission, on medical examination reports and medical examiner's certificates for at least 65 commercial truck drivers. He was sentenced on August 18, 2017.
In a related case, a chiropractor, who was a certified medical examiner, appeared in the same Missouri court in late 2016 and pleaded guilty to theft of personal property and was subsequently sentenced on September 13, 2017. The chiropractor supposedly performed disability examinations for the Department of Veterans Affairs (VA) that he was not authorized to perform — under the direction of the Missouri businessman.
Specifically, between August 2013 and December 2013, he participated in 53 examinations of veterans seeking disability ratings, and submitted to the VA approximately 209 Disability Benefits Questionnaires that falsely stated another doctor had performed these services. The businessman was aware the chiropractor was not qualified to conduct the exams. This fraudulent act cost the VA over $39,000.
Exclusion actions such as suspensions and debarments are frequently for a specific period of time, and the System for Awards Management should be consulted to find out whether a company is currently excluded.
---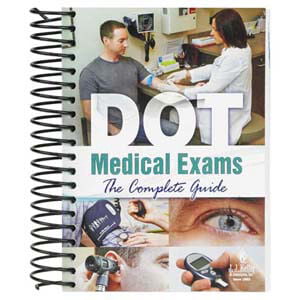 J. J. Keller's DOT Medical Exams: The Complete Guide is a comprehensive medical exam reference for motor carriers, drivers and medical professionals.
---
J. J. Keller's FREE Transportation SafetyClicks™ email newsletter brings quick-read safety and compliance news right to your email box.