FMCSA focusing on technology, deregulation
Posted January 10, 2018
The motor carrier industry is "on the cusp of revolutionary changes" in the way freight and people are moved, and government regulations need to keep pace, according to Cathy Gautreaux, Deputy Administrator at the Federal Motor Carrier Safety Administration (FMCSA).
Speaking at the 97th Annual Meeting of the Transportation Research Board on January 9, 2018, in Washington, D.C., Gautreaux predicted that technological innovation coupled with deregulation will be the agency's focus in coming years.
"Transportation is on the verge of one of the most transformational eras in history," Gautreaux said. "I have witnessed the evolution of the industry from economic to safety regulation over the last 32 years. Technology is the next frontier… and I am excited for what the future holds."
The agency is working on several projects focused on technology to help truck and bus drivers do their jobs safely, including:
Research and testing on automatic emergency braking systems,
A project to develop cybersecurity "best practices" related to vehicle technology, and
Research on sensor and braking performance.
The agency will also be working to improve crash data collection, Gautreaux said.
Technology can only advance, however, if regulations don't stand in the way, she said.
"All too often progress is hampered, not by a lack of will or lack of resources, but by the many regulatory hurdles that must be cleared," Gautreaux said.
The private sector is willing to experiment with advanced technologies, she said, but regulations can get in the way without benefitting safety.
"Without compromising safety or a change in our mission, we at FMCSA must look for ways to reduce regulatory burdens on industry whenever and wherever possible," Gautreaux said.
New rules for electronic logging devices (ELDs) are not on the chopping block, however. Gautreaux said the December ELD rollout was a success and predicted that the ELD rule will reduce fatigue and save lives without impeding commerce.
This article was written by Daren Hansen of J. J. Keller & Associates, Inc.
---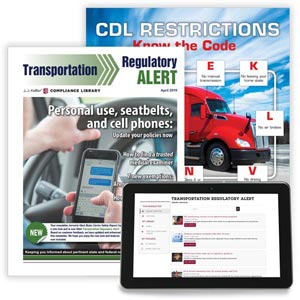 J. J. Keller's Motor Carrier Safety Report keeps you current on federal and state compliance information that impacts your drivers, trucks, and bottom line.
---
J. J. Keller's FREE Transportation SafetyClicks™ email newsletter brings quick-read safety and compliance news right to your email box.