Does Wellness Really Work?
Posted January 30, 2018
As employers continue to boost spending on workplace wellness programs, real questions persist about their return on investment. Research has yielded a variety of conclusions about these popular programs over the years, but the latest study from the University of Chicago casts real doubt on their effectiveness.
Conducted by researchers at the Harris School of Public Policy, the Illinois Workplace Wellness Study involved nearly 5,000 employees at a nearby university. A group of 3,300 employees was given full access to a typical workplace wellness program and split into six groups, each offered a different financial incentive from $50 to $350. A control group of 1,534 employees was offered no access to the program or incentives.
Key findings from the first year of the study include:
Medical spending did not decrease—both the participants and the control group maintained equal monthly medical costs.
Health habits did not change—the number of gym visits remained equal between participants and the control group.
Productivity did not improve—key indicators including salary, retention, and sick leave showed no statistical difference between the two groups.
The researchers also found that the employees most likely to participate were also more likely to have better health habits prior to implementation. This means the program did not reach those most in need of assistance (and those who might have the highest health care costs). Despite the fact that the workplace wellness industry has tripled in size since 2010, the study concludes that voluntary wellness programs deliver limited benefits to a self-selecting group.
While the numbers may be disheartening, the study's authors did offer a few positive takeaways for employers:
An increased financial incentive was more likely to drive participation in the program (an incentive of $100 vs. $0 upped participation by 11.6%).
When considering health care cost savings only, a small increase (just 4.5% in this case) in enrollment of non-participants (higher-spending) could cover the entire cost of the program.
Employees who participate in wellness programs report higher satisfaction with their employers' commitment to worker health and safety.
This article was written by Ann Potratz of J. J. Keller & Associates, Inc.
---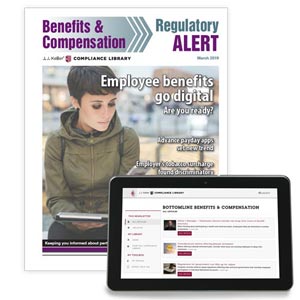 J. J. Keller's BottomLine Benefits & Compensation is an 8-page, monthly newsletter that addresses key issues relating to benefits and compensation programs.
---
J. J. Keller's FREE HRClicks™ email newsletter brings quick-read human resources-related news right to your email inbox.