DOL posting penalties go up by more than $600
Posted January 3, 2018
Maximum posting penalties overseen by the Department of Labor (DOL) will increase by $672 in 2018.
The DOL announced the penalty increase in a final rule published in the January 2 Federal Register. The higher fines apply to penalties assessed after January 2, 2018.
The penalty increases impact three posting regulations enforced by the DOL:
| Posting Name | 2017 fine | 2018 fine |
| --- | --- | --- |
| Family and Medical Leave Act | $166 | $169 |
| Job Safety and Health: It's the Law | $12,675 | $12,934 |
| Employee Polygraph Protection Act | $20,111 | $20,521 |
The increases are the result of an adjustment for inflation, as required by the Federal Civil Penalties Inflation Adjustment Act Improvements Act of 2015. The law requires federal agencies to adjust penalties for inflation each year by January 15.
The penalty for not posting the Equal Employment Opportunity is the Law poster is also expected to increase. The Equal Employment Opportunity Commission (EEOC) has not yet published its updated penalty amount.
State OSHA plans
Some states have their own OSHA plans and can set their own posting penalty for Job Safety and Health posting. These states are required to increase their penalties for private-sector employers in alignment with OSHA's penalty increases to maintain at least as effective penalty levels.
States with their own safety and health plans include: Alaska, Arizona, California, Hawaii, Indiana, Iowa, Kentucky, Maryland, Michigan, Minnesota, Nevada, New Mexico, North Carolina, Oregon, South Carolina, Tennessee, Utah, Vermont, Virginia, Washington, and Wyoming. Puerto Rico also has its own OSHA plan.
State plans are not required to impose monetary penalties on state and local government employers.
Written by Terri Dougherty of J. J. Keller & Associates, Inc.
---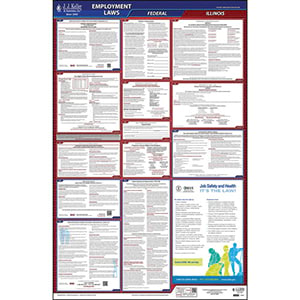 J. J. Keller's State & Federal Employment Law Posters help you meet state and federal labor law posting requirements.
---
J. J. Keller's FREE HRClicks™ email newsletter brings quick-read human resources-related news right to your email inbox.