DOL adopts new internship rules after Ninth Circuit rejection
Posted January 11, 2018
After another Circuit Court ruling rejecting its internship guidance, the U.S. Department of Labor (DOL) has agreed to throw out its six-factor test for determining whether interns qualify as employees who require pay. The latest ruling comes from the U.S. Ninth Circuit Court of Appeals, which sided with similar rulings by the Second, Sixth, and Eleventh Circuits holding that the rules were too rigid. Moving forward, the DOL has indicated that it will use the "primary beneficiary" test developed by the Second Circuit to determine the status of potential interns under the Fair Labor Standards Act.
By better taking into account the economic reality of the arrangement, the new test considers seven key factors to determine who receives a greater benefit: the "intern" or the employer. Under the new guidelines, for-profit employers should consider each of the following factors:
The extent to which the intern and the employer clearly understand that there is no expectation of compensation. Any promise of compensation, express or implied, suggests that the intern is an employee—and vice versa.
The extent to which the internship provides training that would be similar to that which would be given in an educational environment, including the clinical and other hands-on training provided by educational institutions.
The extent to which the internship is tied to the intern's formal education program by integrated coursework or the receipt of academic credit.
The extent to which the internship accommodates the intern's academic commitments by corresponding to the academic calendar.
The extent to which the internship's duration is limited to the period in which the internship provides the intern with beneficial learning.
The extent to which the intern's work complements, rather than displaces, the work of paid employees while providing significant educational benefits to the intern.
The extent to which the intern and the employer understand that the internship is conducted without entitlement to a paid job at the conclusion of the internship.
While employers were previously required to meet the criteria of all six factors, they may now evaluate each factor individually. As a result, the new test allows for a more flexible assessment of each unique arrangement by acknowledging the intended educational nature of internships. However, while the new guidelines may appear less rigid than the old rules, employers should still carefully evaluate any potential risks and benefits before implementing an unpaid internship program.
This article was written by Ann Potratz of J. J. Keller & Associates, Inc.
---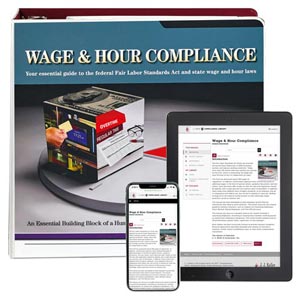 J. J. Keller's Wage and Hour Compliance with FLSA Manual provides critical info to help you comply with the Fair Labor Standards Act (FLSA) and state wage and hour laws.
---
J. J. Keller's FREE HRClicks™ email newsletter brings quick-read human resources-related news right to your email inbox.