Appeals court finds in favor of DOT in PSP case
Posted January 25, 2018
An appeals case challenging the accuracy of the Pre-employment Screening Program (PSP) database was found in favor of the U.S. Department of Transportation. The decision was made on January 12, 2018.
The United States Court of Appeals for the District of Columbia Circuit ruled in "Owner-Operator Independent Drivers Association, Inc., vs. U.S. Department of Transportation" that the drivers represented by OOIDA were unharmed by the mere existence of inaccurate information in the Department's database. The Court stated that the dissemination of the information is not imminent. With the exception of two individuals, the drivers suffered no concrete injury sufficient enough to bring the lawsuit (i.e., confer Article III standing).
The Court indicated that two drivers had suffered concrete injury. Their safety records — including challenged violation reports — were shared through the PSP. The other drivers' records were never disseminated.
In its decision, the Court stated:
"…To be sure, it is possible that the mere existence of inaccurate information in a government database could cause concrete harm depending on how that information is to be used. We conclude only that, under the specific circumstances of this case, the drivers have failed to show standing for all of the relief they seek. We thus affirm in part, reverse in part, and remand to the district court for further proceedings consistent with this opinion...."
---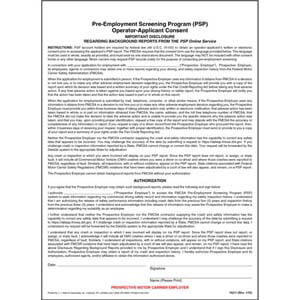 J. J. Keller's Pre-Employment Screening Program (PSP) Operator-Applicant Consent Form helps you meet the requirements of 49 U.S.C. 31150.
---
J. J. Keller's FREE Transportation SafetyClicks™ email newsletter brings quick-read safety and compliance news right to your email box.