Recent DOT rules appear to be excluded from regulatory freeze
Posted January 24, 2017
Read our update to this news story.
With the change in Administration, some are left wondering what the status of recent transportation rulemakings will be under President Trump.
Reince Priebus, Assistant to the President and Chief of Staff, sent a memorandum to the heads of executive departments and agencies on behalf of the President asking for a regulatory freeze pending review of certain rulemakings. This will give the President's appointees and designees a chance to familiarize themselves with agency activities.
What rules are affected?
The new Administration is asking for the immediate withdrawal of any regulations that have not been published in the Federal Register.
For those that have been published in the Federal Register and have not taken effect, the Administration is asking for a 60-day postponement from the date of the Memorandum. These are rules that have not officially been incorporated into the Code of Federal Regulations (CFR). For motor carrier safety, it would be the Federal Motor Carrier Safety Regulations (FMCSRs) and/or Hazardous Materials Regulations (HMR).
In many instances, a final rule becomes a part of the CFR immediately upon publication in the Federal Register. However, in some situations, the final rule is published, but not incorporated into the CFR until a later date.
These rules are not to be confused with those that have been incorporated into the CFR with a future implementation/compliance date. Those final rules are not affected by this Memorandum.
The Memorandum also stated that any regulation that is subject to a statutory or judicial deadline is excluded from this request.
Recent FMCSRs
Recent examples of rules with future implementation dates that are currently a part of the FMCSRs — and therefore not affected by the President's request — include:
A recent example of a rule with a future effective date (i.e., future incorporation into the FMCSRs) is entry-level driver training for drivers wishing to obtain or upgrade their commercial driver's license (CDL). Even though it has an effective date of February 6, 2017, it was given a deadline by Congress in MAP-21. Based on this statutory deadline, it appears that the entry-level driver training rule is also not affected by the regulatory freeze.
---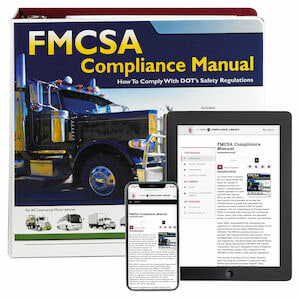 J. J. Keller's FMCSA Compliance Manual is the perfect resource for anyone managing or operating commercial motor vehicles (CMVs).
---
J. J. Keller's FREE Transportation SafetyClicks™ email newsletter brings quick-read safety and compliance news right to your email box.