FMCSA suspends URS implementation
Posted January 13, 2017
After delaying the Unified Registration System (URS) three times, the Federal Motor Carrier Safety Administration (FMCSA) has suspended final implementation of the URS. This includes a suspension of the most recent URS January 14, 2017, and April 14, 2017, compliance dates. FMCSA has not established new compliance dates.
FMCSA has indicated that it does not have the technological ability to support the changes made by the URS final rule by the final rule's current effective date.
Due to the numerous revisions and corrections that have been made to the URS final rule over the past several years, FMCSA is allowing the URS rule to come into effect, but immediately suspending it, and replacing it with temporary regulations. FMCSA intends to lift the suspension once the technology to implement URS is complete, and effectively replace the temporary regulations with the URS final rule (as it was originally issued on August 23, 2013). The temporary provisions read almost exactly as the regulations in existence on January 13, 2017, the day before URS becomes effective.
---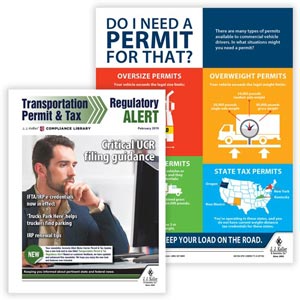 J. J. Keller's Motor Carrier Permit & Tax Update provides regular updates on changes to permitting and reporting requirements.
---
J. J. Keller's FREE Transportation SafetyClicks™ email newsletter brings quick-read safety and compliance news right to your email box.