Employment law poster fines increase
Posted January 20, 2017
The Department of Labor (DOL) increased posting penalties by more than $500 under a final rule published in the January 18 Federal Register. The rule increases the maximum posting penalty from the DOL to $32,952. The higher fines apply to penalties assessed after January 13, 2017.
The increases are the result of an adjustment for inflation, as required by the Federal Civil Penalties Inflation Adjustment Act Improvements Act of 2015.The law requires federal agencies to adjust penalties for inflation each January.
Under the law, the department also made "catch-up" adjustments to the penalties in August.
Posting fines
The penalty increases impact three posting regulations enforced by the DOL. Those include the following:


| | | |
| --- | --- | --- |
| Posting | 2016 fine | 2017 fine |
| Family and Medical Leave Act | $163 | $166 |
| Job Safety and Health: It's the Law (OSHA) | $12,471 | $12,675 |
| Employee Polygraph Protection Act | $19,787 | $20,111 |
State OSHA fines
The final rule also indicates that states with their own Occupational Safety Health Act (OSHA) plans must increase fines to be in line with federal levels.
After the August penalty increases were announced, several state OSHA plans objected to the federal agency's requirement that they increase fines. North Carolina, Kentucky, and New Mexico said that OSHA lacked the authority to require the increases.
The January final rule makes it clear that the federal agency expects states to increase their fines to match those at the federal level. States must set penalties that are at least as effective as federal penalties, the final rule states, and "It is OSHA's long-standing position that 'at least as effective,' in this context, means that State Plans must have maximum and minimum penalty levels that are at least as high as OSHA's maximum and minimum penalty levels."
A number of states list OSHA penalties on their posters. Once fines increase and posters are updated, mandatory posting updates will be required in these states.
EEOC poster
The penalty for not posting the Equal Employment Opportunity (EEO) is the Law poster is expected to increase as well. The Equal Employment Opportunity Commission increased that posting penalty to $525 in July, but has not yet announced the inflation-adjusted penalty amount for 2017. Until the EEO is the Law posting penalty increase is announced, the potential federal posting penalty total is $33,477.
FLSA fines
In addition to posting penalties, a number of additional fines will also increase under the rule. Those include fines for Fair Labor Standards Act violations:
A repeated or willful violation of minimum wage or overtime laws increases from $1,894 to $1,925 per violation.
A child labor violation increases from $12,080 to $12,278.
A child labor violation resulting in serious injury or death increases from $54,910 to $55,808.
A willful or repeated child labor violation resulting in serious injury or death increases to $109,820 to $111,616.
---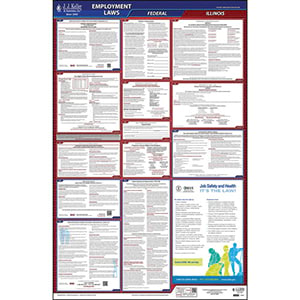 J. J. Keller's State & Federal Employment Law Posters help you meet state and federal labor law posting requirements.
---
J. J. Keller's FREE HRClicks™ email newsletter brings quick-read human resources-related news right to your email inbox.