Employee recognition programs more successful when tied to company values, survey shows
Posted January 10, 2017
As employers look for ways to deal with the challenges of low employee retention and high turnover, a recent survey shows more organizations are tying employee recognition efforts to their core values.
The Society for Human Resource Management's (SHRM's) survey Influencing Workplace Culture Though Employee Recognition and Other Efforts, which was produced in collaboration with and commissioned by Globoforce, showed that respondents considered employee retention/turnover the top workforce management challenge in 2016. Almost one-half of the surveyed organizations (46 percent) cited it as a top challenge in 2016.
Other top workforce management challenges for at least one-third of organizations were: employee engagement (36 percent), recruitment (34 percent), and succession planning (33 percent).
Improving employee recognition efforts could be one strategy to help organizations mitigate these challenges. The majority of respondents indicated that their employee recognition programs had positive impacts on employee engagement, workplace culture, retention, and employee happiness.
Another key finding showed that more organizations are tying employee recognition efforts to their core values with good results. Overall, 81 percent of organizations surveyed had an employee recognition program, and 60 percent said their program was tied to organizational core values, an increase from 50 percent in 2012.
Those whose programs were tied to organizational values perceived greater benefits in a variety of areas, including:
Return on investment (ROI) —70 percent versus 38 percent.
Instilling and reinforcing corporate values — 88 percent versus 57 percent.
Maintaining a strong employer brand — 80 percent versus 49 percent.
Additionally, when organizations dedicated at least one percent of payroll to recognition programs that were tied to their values, human resource professionals were more likely to perceive greater impacts on financial outcomes such as cost-control goals and ROI.
The survey findings also showed that many organizations are making other efforts besides employee recognition to influence workplace culture and create a more positive workplace, including the use of:
Health and wellness programs (81 percent)
Learning and development programs (80 percent)
The survey polled 798 randomly selected SHRM members who hold a title of manager or above and are employed at organizations of 500 or more employees. Conducted in April and May, the survey has a margin of error of plus or minus 4 percentage points.
---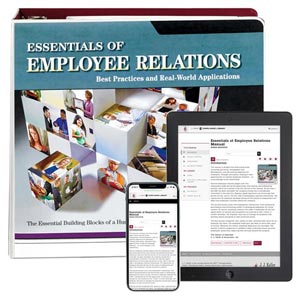 J. J. Keller's Essentials of Employee Relations Manual comprehensive guide is an ideal resource for anyone with responsibilities related to employee relations, including HR managers and supervisors, recruiters and more.
---
J. J. Keller's FREE HRClicks™ email newsletter brings quick-read human resources-related news right to your email inbox.