EPA delays the effective dates of 30 regulations
Posted January 27, 2017
In response to the January 20 Reince Priebus memo asking federal agencies to place a temporary freeze on ongoing rulemakings, EPA published a final rule to delay the effective dates for 30 regulations published between October 16, 2016, and January 17, 2017. These include several state environmental program approvals along with seven federal rulemakings.
The new effective date for the 30 rules is March 21, 2017. However, where appropriate, EPA may consider delaying the effective dates of the regulations beyond March 21.
Seven federal regulations are being delayed. These are:
Addition of a Subsurface Intrusion Component to the Hazard Ranking System — Original effective date 2/8/2017
Renewable Fuel Standard Program: Standards for 2017 and Biomass-Based Diesel Volume for 2018 — Original effective date 2/10/2017
Formaldehyde Emission Standards for Composite Wood Products — Original effective date 2/10/2017
Certification of Pesticide Applicators — Original effective date 3/6/2017
Assessment of Civil Penalties — Original effective date 3/10/2017
Accidental Release Prevention Requirements: Risk Management Programs Under the Clean Air Act — Original effective date 3/14/2017
Revisions to National Emission Standards for Radon Emissions from Operating Mill Tailings — Original effective date 3/20/2017
---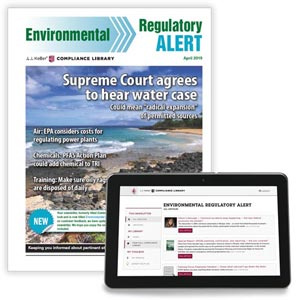 J. J. Keller's Environmental Alert: The Compliance Guide for Safety Professionals helps you stay on top of the latest environmental enforcement issues.
---
J. J. Keller's FREE Workplace SafetyClicks™ email newsletter brings quick-read workplace safety and compliance news right to your email box.