Why Choose J. J. Keller Managed Services?
Reduce risk. Increase efficiency. Gain compliance confidence.
Our services reduce your administrative burden and increase your peace of mind by relieving you of complex, labor-intensive regulatory tasks and compliance monitoring. By partnering with us, you'll have more time to focus on your day-to-day operations.
More reasons to trust J. J. Keller to manage your compliance:
When you partner with J. J. Keller, you join over 560,000 customers including 90% of the Fortune 1000® companies.
Over 95% of our clients stay with us year over year.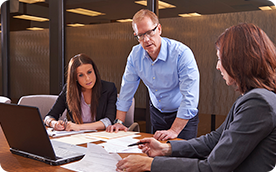 Regulatory Expertise
We've been helping companies meet their safety and compliance goals for over 60 years. By partnering with us, you tap into an entire network of in-house subject-matter experts who closely monitor regulatory activity on your behalf. We'll help you understand how regulations impact your business.
Dedicated Associates
J. J. Keller® Client Service Specialists have an average of 10 years of service and are well versed in handling recordkeeping for large, complex organizations. They'll work with you to improve compliance processes, answer your questions, and keep your best interests in mind. You'll have direct access to your US-based client service representative by phone and email so you get the help you need when you need it.
Improved Efficiency and Business Flexibility
As we monitor your compliance work, you'll have more time to work on other priorities and internal operations. Complying with heavily enforced regulations can reduce your chance of litigation, lower insurance costs, and build strong customer relationships.
Audit & Intervention Support
In the event of a regulatory audit (FMCSA, IFTA/IRP or OSHA) or supplier audit, we'll be there to support you through the entire process. You'll get guidance on preparing files and presenting records, along with answers to any questions you may have. We have a track record of success, having helped clients get audit assessments reduced by more than 63%.
DOT Audits: What You Need To Know Webcast – Free Webcast
Data Security
Rest assured, your data is extremely important to us. Each of our safety consultants are trained in data security and must sign a legal confidentiality agreement. In addition, our on-staff privacy official maintains oversight of our written policy regarding the protection of client information.
Services We Offer
Find the service you need below, or contact us for more information.
Find out how J. J. Keller can help you meet your compliance goals.
Talk with a compliance specialist today at
888-473-4638
.