J. J. Keller® Video Training Books
This durable, portable training format goes wherever your employees go.
No internet connection or classroom needed.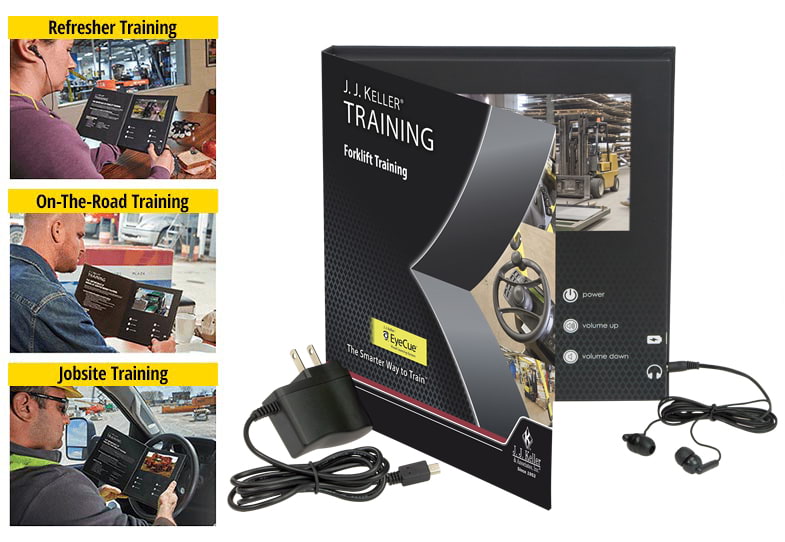 It's perfect for:
Makeup training
On-site training
Remote locations
Mobile employees
Refresher training
"We started using

J. J. Keller's

Video Training Books because the internet connectivity at some of our locations was unreliable, and they've been a great choice for us. The feedback I'm getting from managers and drivers has been very positive. They are much easier to use than the tablets we were using, and the drivers can easily start a session, leave it, and come back to it. Because the video books have been so well received among our drivers, we've purchased additional books to train our maintenance employees." Janet Gomez
Risk Management Coordinator
Blarney Castle Oil Company
Bear Lake, MI
Volume Pricing:
| | |
| --- | --- |
| 1 - 4 | $249.00 |
| 5 - 9 | $229.00 |
| 10 - 24 | $199.00 |
| 25 - 49 | $179.00 |
| 50 + | $149.00 |
Video Training Book Includes:
Employee handbooks
Quiz & answer key
Training log
AC adapter
Video Training Book Specifications:
8" x 9" x .5" hard cover "book" wrapped in a soft-touch matte coated paper
High quality video on a 7" LCD screen
Integrated video playback functionality - Power, Volume Up, Volume Down, Play/Pause, Next Chapter, Previous Chapter
3000 mAh rechargeable lithium ion battery
Approximately 5 hours of continuous playback
Mini USB recharging port
Built-in speakers
1/8" stereo jack for headphone use
Choose your training topic – then choose a title
Our training programs are backed by our team of regulatory experts. Using the latest training techniques and technology, you can get the training you need to help keep your workers safe and in compliance.
Click on the Video Training Book titles below for more information about each training title.
See the Video Training Book in Action: